In 2015/16 184,500 children's need assessments were closed as 'no further action', Action for Children found through answers to freedom of information requests to 141 councils.
This was because councils did not consider the needs severe enough to meet the threshold for statutory services, the charity discovered.
Of the 184,500, a quarter received early help services through children's centres or domestic violence programme, leaving 140,000 vulnerable children without support, the Revolving Door report out today showed.
The charity sent out freedom of information requests to 152 councils.
Tony Hawkhead, chief executive of Action for Children, said social care was about prevention as much as helping families before matters get beyond repair.
He said: "Punishing savings targets have given local authorities no option but to drastically shrink or abandon services, including family support, leaving large numbers of children on the fringes of social care without the help they need.
"We are missing opportunities to help these children and their families at an early stage."
Today's report also identified large regional variations in the numbers of children referred on to early help services after their cases were closed to social care. See table below.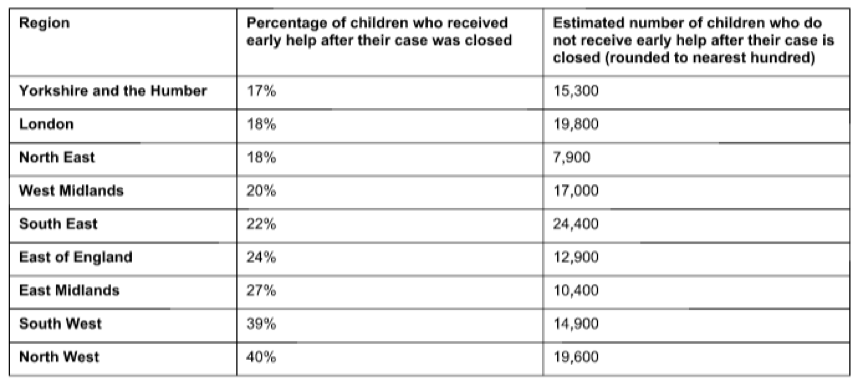 Action for Children is calling on the government to strengthen the legal framework for early help services and provide adequate funding to local authorities so they can provide help as soon as children need it.
Richard Watts, chair of the Local Government Association's Children and Young People Board, said: "This report rightly recognises the increased pressures facing local authorities when it comes to protecting vulnerable children.
"As a result of funding cuts and huge increases in demand for services, the reality is that services for the care and protection of vulnerable children are now, in many areas, being pushed to breaking point."
He noted that the number of referrals to council children's services has risen nearly 9% over the past decade, while the number of children placed on a child protection plan as a result of those referrals has increased by more than 90%.
Watts added that the early intervention grant had been cut by £500m since 2013, and will drop by a further £183m by 2020.
Children social services are facing a £2bn funding gap by 2020, according to the LGA.
A Department for Education spokeswoman said: "Councils will receive more than £200bn for local services up to 2020 and spent nearly £8bn last year on children's social care, but we want to help them do even more.
"Our £200m innovation programme is helping councils develop new and better ways of delivering these services."