Quick wins
Back to blue: Blue passports could make a comeback as a feature of the post-Brexit British landscape. The Home Office is tendering for a £490m contract to design the new passport, expected to be launched in 2019 after the burgundy, EU-compliant design expires.
Top cop pay drop: Cressida Dick, the new commissioner of the Metropolitan Police, has elected to take a lower salary then her predecessor Sir Bernard Hogan-Howe. Dick will be paid £230,000 compared to Hogan-Howe's £270,648.
Amnesty international: Indonesia's tax amnesty has seen over $330bn in assets declared in less than a year, making it one of the most successful ever conducted. However, most Indonesians, rich and poor, remain outside the country's tax system.
Unemployment hits a low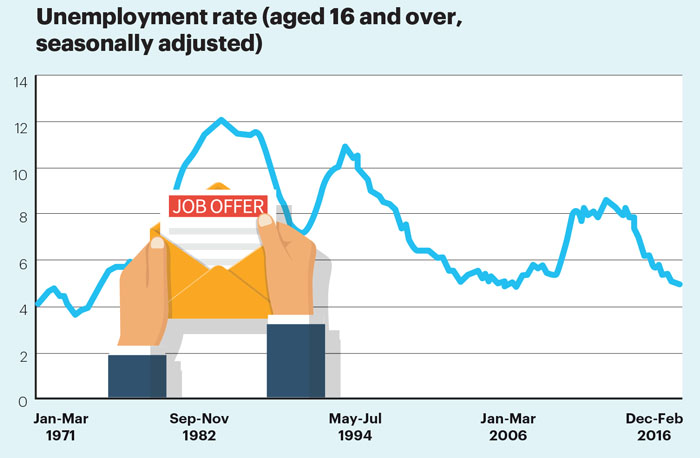 The unemployment rate fell to 4.7% at the end of January, down from 5.1% the previous year, the lowest level in 12 years. According to the ONS, the rate has not been lower since 1975.
There were 31.85 million people in work, an increase of 92,000 on the previous three months, and a rise of 315,000 compared with the year before.
This historical graph shows unemployment peaked in the spring of 1984, when it reached 11.9%. After falling considerably through the 1990s and early 2000s, it climbed back to 7.8% following the financial crash, peaking at 8.5% in the autumn of 2011.
No to referendums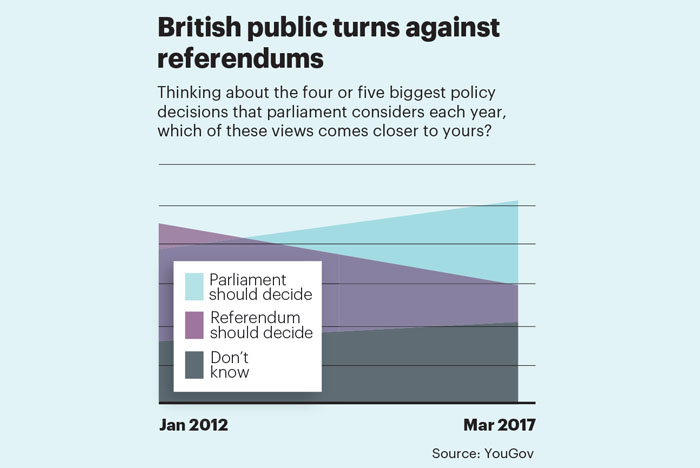 After three in six years, the public is tiring of referendums, YouGov research indicates.
While back at the start of 2012, 45% of people polled thought the most pressing policy issues should be put directly to a plebiscite, this enthusiasm has tailed off in recent years and the public has rediscovered its love of representative democracy.
YouGov noted that remain voters were the group most against referendums, with two thirds thinking parliament should decide. Leave voters are also happy to defer to parliament, but by a much smaller margin of 44% against 39%.
Scots take sides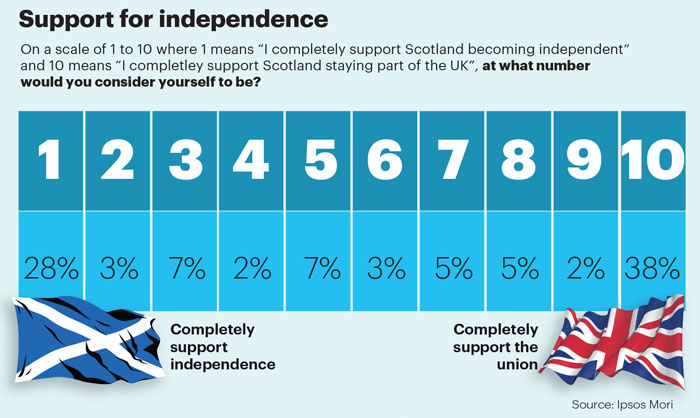 Scottish independence is back on the agenda after first minister Nicola Sturgeon vowed to secure a second vote in the wake of Brexit.
Polling indicates that Scots remain split down the middle, with half in favour of independence and half backing the union.
Ipsos Mori research for STV, however, shows how support is distributed. Support for the union appears strongest, with 38% of Scots polled placing themselves right at the union end of the spectrum, compared to 28% of independence supporters. The remaining 34% of voters put themselves somewhere in between.
Keep on workin'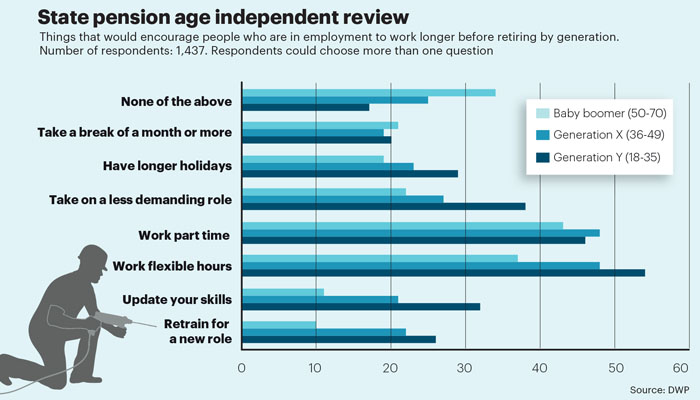 There was little comfort for generations X and Y in former CBI head Sir John Cridland's independent review of the state pension age. Retirement is going to have to shift ever further into the distance to keep the cost of the state pension sustainable, reaching 68 by 2039 instead of 2046. Cridland's report also noted what might encourage people to work for longer.
Across all generations, flexible working was the most popular. Part-time working and self-employment were also popular. "This suggests people will work longer if they have some say in what they do and when," the report stated.
Contracting aid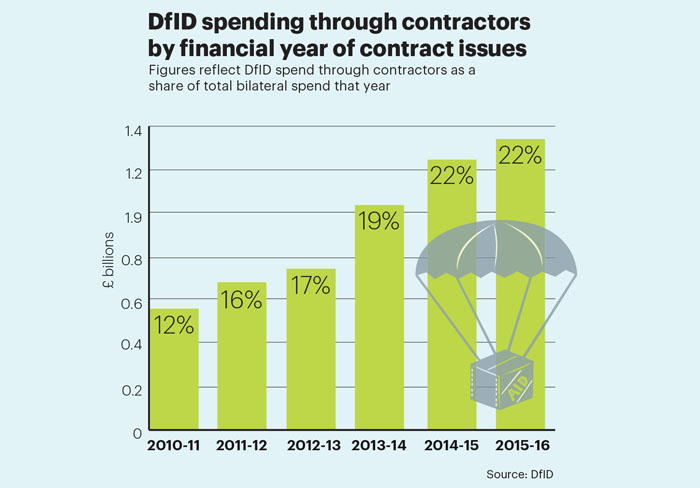 The growth in the amount of aid being channelled through private contractors was highlighted by the International Development Committee recently. Since 2010-11, the proportion of Dfid spending through contractors has almost doubled from 12% to 22%.
The MPs slammed the behaviour of contractors for underperformance and mistreatment of subcontractors in some cases. They also reprimanded the department for a lax approach to procurement and called for a "genuine rethink" of the sector.
Bee-aware councils
Less grass cutting could save councils money and be a boon to British bees. YouGov research for Friends of the Earth and conservation charity Buglife found that 63% of people want to see councils doing more to protect bees, while 88% want the use of bee-harming pesticides reduced and 92% would like to see more wildflowers planted to attract them.
The charities would like to see more councils develop Pollinator Action Plans, which can help boost bee populations. Dorset, Devon, Cornwall, Bristol and East Sussex are all trailblazers in this area.
"Policies such as allowing grass to grow on roadside verges and in certain areas in parks will help bees, save cash-strapped councils money and are supported by the public too," said Friends of the Earth chief executive Craig Bennett.
Paul Evans, lead pollinator adviser at Buglife, said: "We are not advocating abandoning areas of council land but introducing a less intensive form of grassland management."