By John Thornton | 1 August 2011
The coalition commitment to releasing ever more government figures is feeding the press's reliance on data for stories. So what should the public sector do?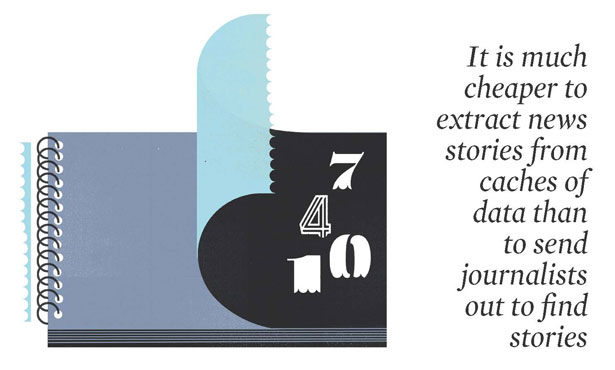 When the Coalition government came to power, it committed to unleashing a tsunami of government data. Since then, we have seen the publication of a large number of datasets, including local authority and central government spending, salaries of senior civil servants and various crime, education and economic figures. This has provided a potential bonanza for data journalists and program developers but what are the implications for public sector bodies and the public?
Data journalism is relatively new and has grown significantly in recent years. It is partly a product of the internet age, as it is now easy to copy and share thousands of documents. It is also a response to the cost pressures on the media. It is much cheaper to extract news stories from caches of data than to send journalists out to find stories and do in-depth analysis via interviews. It often involves combining published and leaked materials.
We have therefore seen a global growth in stories based on data journalism, such as the Daily Telegraph's on MPs' expenses, where the paper obtained access to more than 1.5 million individual receipts. WikiLeaks passed more than 90,000 leaked documents on the war in Afghanistan to the New York Times, Der Spiegel and the Guardian in advance of publication on its website. This was followed by 250,000 leaked US State Department cables, sent from, or to, embassies around the world, providing an unprecedented picture of the way the US conducts secret diplomacy. 
We are also beginning to see the analysis of data becoming more of a community-based activity, as newspapers and websites involve readers and the wider audience. This was the case with 24,000 pages of US Republican Sarah Palin's e-mails, which the Guardian recently invited its readers to help review.
This new wealth of data also provides an opportunity for organisations and companies to build software applications around available data, either as a free service, as with websites such as openlylocal.com, or as a paid service. Before the general election, for example, it was estimated that some £6bn per annum of additional activity could be added to the UK economy by companies building new applications using free government data.
What are the implications for public service bodies? First, this means putting in place systems and processes to manage, securely store and share data, ensuring that organisations know what has been published and can verify its provenance. They also need to think about how the data might be used and the effect if combined with other data.  Are there areas or transactions where they want to provide additional context to avoid misinterpretation and having to respond to silly stories of the type that arise from, say, rate refunds to lingerie stores?
We all know that celebrity and shock journalism is another low-cost way of filling newspapers. Plus, busy journalists and news websites can pick up and spread stories quickly, making it difficult and time-consuming to correct inaccuracies. See churnalism.com for examples of how stories spread across national newspapers. 
Public bodies might also want to consider ways in which they can add value to their data and perhaps even generate additional income by working with third parties. I know at least one council leader who claims he would not have to levy a council tax if he could exploit the value of personal data held by his council. One study has estimated that Ordnance Survey data alone is worth more than £79bn to the UK economy.
Also, surely auditing and regulating public bodies should be easier and cheaper if most of the transaction and outcome data is already published?
However, if you are Joe Public and fancy yourself as an armchair auditor, you might feel that you are looking for a needle in a haystack. I suspect that you will conclude that it is easier to rely on program developers and journalists to pan on your behalf for the nuggets of information in the data tsunami.
John Thornton is a director of e-ssential Resources, and an independent adviser and writer on business transformation, financial management and innovation