By Mike Thatcher | 1 July 2011
As chamberlain of the City of London, CIPFA's incoming president is accustomed to holding a position of power and prestige. Chris Bilsland talks to PF about 'the best financial position in the public services' and his plans for the year ahead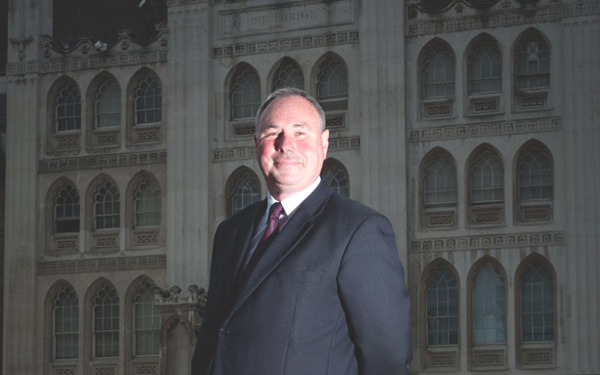 When Chris Bilsland is presented with his chains of office as CIPFA president later this month, it won't seem that out of the ordinary for him. In fact, it will probably appear quite tame compared with his usual work garb.
In his day job, Bilsland is the ­chamberlain of the City of London, for which he regularly wears ceremonial attire. On state occasions it's a gown, tights and patent shoes, while for court meetings it's a version of morning dress worn originally by eighteenth-century lawyers.
As I interview him at London's ­Guildhall ahead of his accession to the CIPFA throne, he proudly shows off two wardrobes in his office. One is for his ceremonial outfits and the other is for his wife's.
'You've got to enjoy the ceremonial part and understand why we do it,' he says. 'We are continually trying to present London as a great place to do business because of its heritage and history.'
Being chamberlain is an unusual job to say the least. It combines many of the typical functions of a municipal finance director with the weird and wonderful ceremonial responsibilities attached to a post that goes back to 1237.
The City of London Corporation is the square mile's local authority. It ­provides all the usual services – ­including ­policing and refuse collection – while ­maintaining other parts of London such as Hampstead Heath and Epping Forest. The ­chamberlain is treasurer, ­financial adviser, accountant, banker and ­paymaster all rolled into one.
Jon Pittam knows Bilsland from when they both worked at Hampshire County Council in the late 1980s. Pittam, who recently retired as Hampshire's county treasurer, says that the role of chamberlain has given Bilsland the self-assurance and poise needed for his institute duties.
'Chris is a big bear-like man who wears the bearskin of the chamberlain very well. He radiates confidence, has a big presence and big smiles and is very measured in what he does,' Pittam says.
Bilsland has held a variety of finance posts over his career. He worked in local government finance departments at Doncaster and Derby in the 1970s and early 1980s before moving to the private sector as a senior manager with the then Deloitte Haskins & Sells. With his promotion to partner-status in the firm likely to take some time, Bilsland decided to return to local government.
He joined Hampshire council in 1987 as ­assistant county treasurer, where he worked with Pittam. In 1991 Bilsland moved to Somerset County Council as treasurer, becoming corporate director of resources in 2004.
But he says the chamberlain role is 'the best financial position in the public ­services', and you can tell he means it.
'You have all the professional ­challenges of being a finance director for a diverse organisation. We're not just a local authority, not just a police authority, we're also a major charity and a major private organisation. The variety is fantastic and the history of the job gives me so many privileges and pleasurable things to do,' he says.
As we meet, the latest pleasurable task is sorting out the seating plan for the ceremony in which actor Dame Judi Dench will be given the Freedom of the City. Dench will join TV journalist John Simpson, broadcaster Sir Terry Wogan, theatre director Sir Peter Hall and New York Mayor Michael ­Bloomberg as recent recipients of the freedom.
Nowadays the benefits of the freedom appear somewhat anachronistic. Dame Judi is unlikely to be impressed by the fact that she can take her sheep over London Bridge without paying taxes or that should she be sentenced to death by hanging she will be entitled to a silk cord. But it is still a highly regarded honour, with around 2,000 people recognised each year.
It's not all pomp and pageantry, ­however. Like all public bodies, the City of London is facing a funding shortfall and has had to cut £45m from its budget over the next three years.
Bilsland says they've experienced a 'triple whammy'. Grant funding has been cut, investment income has suffered and the capital as a whole has been hit by the recession and the banking crisis.
Making cuts has been far from easy, but Bilsland says that users won't experience a deterioration in their services. 'We have made reductions through doing things more economically, more efficiently and more effectively, and by some modest changes in services.'
This experience should hold him in good stead as he takes up the CIPFA presidency at a time of unprecedented change in the public sector. He admits that he 'can't think of a more challenging time' for institute members.
'We want to work hard with ­government to help them manage public spending better; we have a responsibility to our members to promote and protect their interests; and there are always changes on the accountancy front, ­particularly internationally. Any one of these would be a big deal – dealing with them all is enormous.'
Bilsland says the institute will need to be a 'critical friend' of government, highlighting where there are errors or omissions in coalition policy. But he accepts that the relationship between Whitehall and town hall is currently strained.
'One of the reasons for this is a style of government that is keen to move quickly,' he says. 'It would rather do things and get most of them right, and then apologise afterwards for the bits it doesn't get right. And that's not necessarily a style that we are used to.'
He cites the announcement of the abolition of the Audit Commission. 'If government had consulted on the Audit Commission with local authorities, it would have got back a better proposition about what we wanted to see.'
Dealing with difficult politics should be second nature to Bilsland as the ­chamberlain has to understand the ­sensibilities of a diverse group of ­interested parties.
'Chris is a bright guy, who has the ability to grasp difficult issues quickly, see the implications and come up with solutions,' says former CIPFA president Caroline Mawhood, who has known Bilsland since their early days at the institute.  'To have someone as president who bridges the public and private ­sectors is a great asset for the institute.'
Mawhood, a former assistant ­auditor general at the National Audit Office, adds that Bilsland certainly won't lack drive.
'He has enormous energy,' she says. 'He can fit in playing golf, advising the DCLG and running the finances of the ­Corporation of London, all at the same time.'
Curriculum Vitae

2006-present
Chamberlain, City of London

2004 - 2006
Corporate director of resources, Somerset County Council


1991 - 2004
County treasurer, Hampshire County Council


1987 -1 991
Assistant county treasurer, Hampshire County Council


1982 - 1987
Chief auditor, Derby City Council


1972-1979
Trainee, then senior accountant, Doncaster Council  


Chris Bilsland took over as CIPFA president at its AGM in Birmingham on Tuesday, July 5