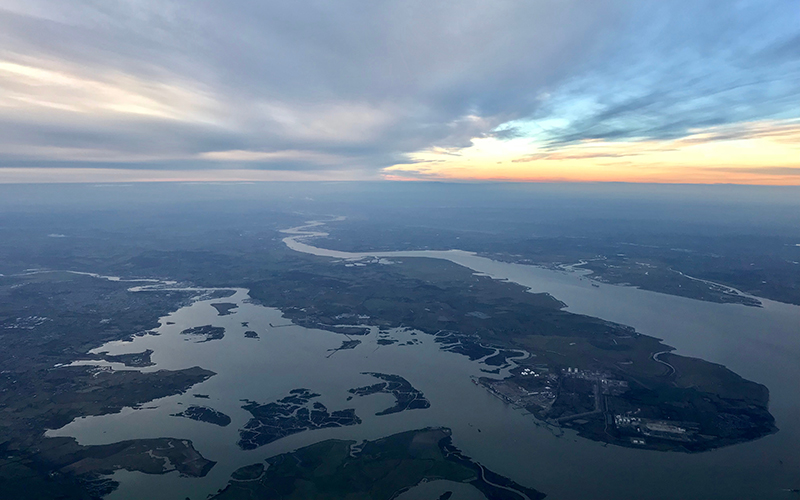 "We're not in Kent anymore!" That was my thought as I watched the Indiana Indians baseball fans head to the local stadium to watch their team play at their home ground in Indianapolis. I felt a long, long way from home.
But pitching the Thames Estuary to potential investors and building productive links with other regions around the world sometimes requires me to hit the road. That's why I've just returned from a trip to Chicago, Indiana and New York.
What do these places have to do with the Thames? They have very different geographies, very different histories and as for the sports, well, I'm not sure I could follow the rules of a baseball game.
But it all starts to make sense when you get down to places like Burns Harbour. Burns and other big Indiana ports on the shores of Lake Michigan are the reason the state is known as America's crossroads. The ports are absolutely vital nodes of a transport infrastructure, that handle mind-boggling volumes of freight that makes its way to and from the world.
Like us, the Hoosiers (as Indianians call themselves) are wrestling with the challenges that a transition to a decarbonised transport network throws up. And – just like the Thames Estuary – they want to make sure they make the most of the vast opportunities for green growth, especially those that new technologies like hydrogen are starting to open up.
They want to make sure that those opportunities lift the whole state, and make sure they are spreading the benefits. We've agreed to collaborate on hydrogen living labs and the infrastructure required to deliver freight and logistics, which will benefit companies in the Estuary with their green transition.
Synergies like these explain why the UK government signed a Memorandum of Understanding (like a mini trade deal) with Indiana last year, with the Thames Estuary – I hope - now as its leading partner in this country. And it explains why other US states are set to follow suit, teaming up with us to maximize investment and other opportunities.
Work is well underway to collaborate on a host of areas, from aviation and electric, to low emissions technology, energy and government procurement. We have already started drawing up an action plan to support the delivery of the UK Government Trade Deal with Indiana.
An action plan that will deliver new investment and trade to the Thames Estuary. I've been bowled over by the enthusiasm I've felt from politicians, policy and business school academics, major investors and businesses, and it's been a great opportunity to spread the news about 'Investuary', the portfolio of investment opportunities available in the Thames Estuary.
It was great to catch up with the Indiana Economic Development Corporation, who were among the delegation of business and state leaders that we took down the Thames on a visit earlier this year to showcase the exciting investment opportunities we have. Each time we compare notes we find new ways we can learn from each other.
Relationships like that are invaluable in ensuring that we are at the forefront of the transformation under way and that its benefits are felt by the people living and working in the towns and cities along the estuary.
They play baseball, we say Bazball, but together we are going to hit it out of the park!