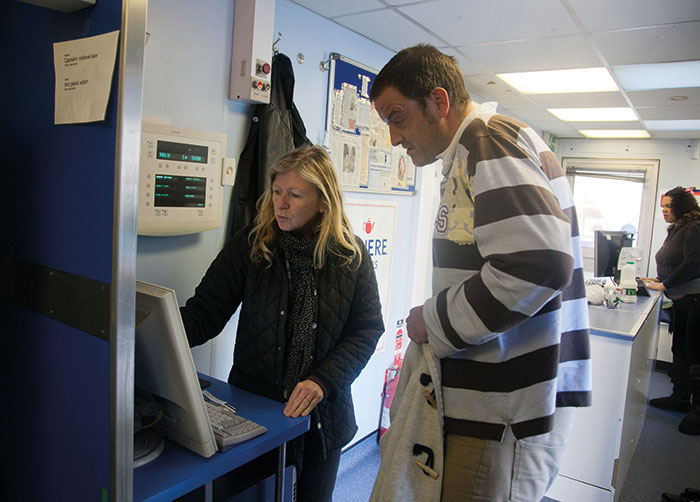 At Thames Reach, our 'tenancy sustainment teams' work with around 850 people, all of whom have a history of sleeping rough in London. The TSTs provide support to tenants who are in social housing across the city, to help them sustain their accommodation, recover from the experience of homelessness, receive treatment for health and substance misuse problems and help them prepare for employment. After the service was introduced in 2000, tenancy sustainment rates increased from around 50% to approximately 97%.
When we started running a TST in 2016 under a new contract, one thing that really shocked us was the number of people dying after being rehoused. During the first two years of doing this work, 55 people died in that two-year period. The most common causes of death were not unusual (cancers, cardiovascular and gastro/liver disease), but the average age was just 52. Together with St Mungo's and the Greater London Authority, which funds the TST service, we commissioned research to find out why this was happening, and to see how we and others might work differently.
There were few surprises in the findings; rough sleeping has catastrophic short- and long-term impacts, and the chronic and related health and substance misuse problems associated with sleeping on the streets, sometimes for years, do not go away once an individual has been housed. The stigmas associated with substance misuse and homelessness meant that some people were not accessing the health services they needed, and, when they did, were not getting the right help. The study also identified that some people were lonely and vulnerable to abuse and exploitation, and often did not feel confident to ask for help.
While the TST service was valued, caseloads were high and, like the people using the services, staff did not always receive the necessary support from mainstream services. While the vast majority of tenants were registered with a GP, they often had not seen them. Likewise, where they may have been in contact with local drug and alcohol services, this contact often had not been sustained.
It was particularly difficult for TST staff to sustain the network of support – whether in the form of health, substance misuse or social care provisions. There was little evidence of new integrated and localised service delivery models working effectively. Finding secure accommodation is particularly important for this group, and for many it is a first step towards taking control of their lives and moving away from homelessness.
So what is to be done? Better funding for the TST service would reduce caseloads and give more time for people to move on with their lives, as opposed to just preventing tenancy breakdown.
The report asks whether there is a need for a greater clinical input to the team, such as a nurse or an occupational therapist; indeed, St Mungo's employs an occupational therapist as part of the team. Personally, I believe that we need to look at how we can help people get better access to the services that already exist, rather than creating new ones in parallel.
One thing that we know works is the use of 'health navigators' – people with experience of service use, who are trained to support tenants to navigate the complex health and social care system. These have proven effective in the hostel system and we will be looking at how the model can be adapted to work in this environment.
TSTs work with around 1,700 people in London. But the issues their tenants face are experienced by a much larger group, who use housing, health and social care services regularly, and whom we need to understand and respond to.
Image credit | Alamy