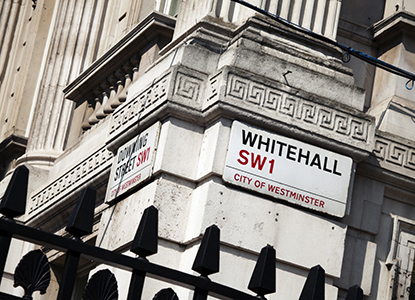 Our year-long research project titled 'Is Government Fit for Purpose? The Kakabadse Report' has established that the 'chemistry' between the secretary of state and permanent secretary is crucial in determining the effectiveness of government policy delivery.
The pressure on ministers predominantly forces them, despite their best efforts, to focus on a broad range of misaligned interests, resulting in a 20% focus on policy creation, while the remaining 80% is devoted to delivery.
Our work in this area benefitted from unprecedented access to the heart of UK government.
I was able to negotiate unrestricted contacts with ministers, secretaries of state, permanent secretaries, civil servants, departmental board members, private sector suppliers and special political advisers, and conducted more than 80 confidential interviews.
Prior to this few, if any, civil servants were willing to talk openly about the obstacles they overcome daily with a level of determination and loyalty I have yet to witness in the private sector.
Our guarantee of anonymity resolved any inhibitions over speaking to the issues, and the resulting commentary provides a fascinating behind-the-scenes view of political leadership, communication and governance.
From the broad range of opinions gathered it is clear that civil servants are considered by those who work with them, ministers included, to be professional, intellectually sharp and distinctly capable of working through complexity.
They are additionally thoughtful, experienced and particularly insightful in terms of their ability to deliver policies by drawing on relevant evidence and navigating through a considerable misalignments of stakeholder interests.
As well as taking pride in, and having a strong commitment to their work, civil servants also describe a 'sadness' at being an 'easy target' unable to 'defend themselves', sometimes from those they serve. At times they also felt unprotected.
An emerging theme is one of civil servants feeling 'undervalued' and 'underappreciated', which has a negative impact on morale.
Linked to this issue of morale, some civil servants believe they are not being provided with sufficient feedback. A commonly raised concern was 'not knowing' whether individuals are meeting objectives, not receiving adequate appraisal and not being 'pushed' for promotion.
Civil servants consider themselves people who want to please and meet the objectives of the secretary of gtate and junior ministers. The decline in morale was in part due to a perceived lack of feedback, but also due to a lack of praise.
The considered view is that the work and contribution of the civil servants is underappreciated, as shown by quotes highlighted below:
"We've got all these bright people in the civil service and what would make their lives better would be saying 'look you've done brilliantly and I know there's a job coming and I think you should go for it.'" – junior minister
"There is a definite morale problem. Some of it comes actually not just from pay; it comes from feeling undervalued. The messages around what it means to be a civil servant, the importance to the economy, that civil servants are problem solvers, crisis resolvers, purveyors of critical infrastructure. You don't hear government ministers saying that enough." – permanent secretary
The former minister for the cabinet office and paymaster general, now Lord Francis Maude, is identified as the most vocal critic drawing attention to the conservative nature of the civil service.
It is reported that Lord Maude's public criticism of the civil service encouraged unwarranted negative comment from certain junior and senior politicians.
The views that officials delay, block or thwart the minister are now only intermittently expressed and this negativity has not significantly impacted on the robustness and resilience of civil servants, despite an inevitable effect on morale.
The relationship between ministers and senior officials remains patchy, with one permanent secretary commenting: "It was very low in the Francis Maude days, but it's pretty low now".
The outcomes detailed in our report have now been submitted as evidence to the Public Administration and Constitutional Affairs Committee's Civil Service effectiveness inquiry
Our recommendations include that the prime minister make a statement supporting civil servants, their contribution and their unwavering loyalty to deliver on the government's agenda.