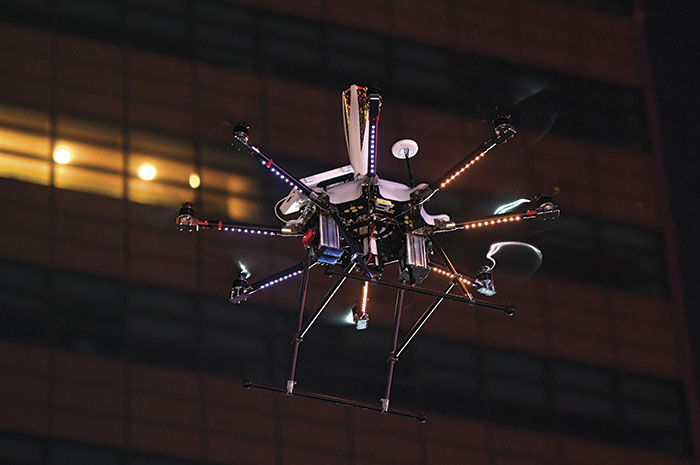 Did you see the drone display at the opening ceremony of the Winter Olympics?
At the event, 1,218 drones provided a moving swarm of lights that morphed into animated three-dimensional figures, including a snowboarder, skier and the interlocking Olympic rings.
The Olympics is always a showcase for the latest technology and pointers to what might be used in everyday life in the future. PyeongChang did not disappoint and offered glimpses of our future smart cities.
South Korea is one of the most digitally advanced countries in the world and has been pushing to host the Winter Olympics for more than 18 years. It spent over $10bn on new infrastructure, including roads and high-speed rail, in addition to the Olympic organising committee's budget.
New KTX bullet trains carried visitors from Seoul to the games at 300km/h. At Seoul's Incheon Airport, robots offered advice and travel information to tourists. These humanoids were connected to the airport's central computers, giving them access to live information, and they used voice recognition software and AI to operate and communicate in Korean, Japanese, Mandarin and English.
Other autonomous robots cleaned floors and entertained visitors with singing, dancing and painting murals. Autonomous buses moved guests around the Olympic Village. Surveillance drones scanned the ground and sky for suspicious activity, and could summon interceptor drones if needed.
A proof-of-concept 5G mobile network was set up at the Olympic venues.
This is about 100 times faster than 4G – and is unlikely to reach the UK before 2020. It is expected to transform how we use technology and data on the move.
For the Olympics, it enabled the superfast communications needed to support activities like the self-driving buses and allowed spectators to watch videos in "360º bullet-time", to replay that last twirl or jump by zooming in or using slow motion from any angle.
Technology also helped competitors. The US ski team, for example, used a headset that sends electrical currents to the brain's motor cortex to improve its response to training.
Two Dutch speed skaters wore smart suits embedded with sensors so their coaches could monitor their body data in real time and send back messages, via vibrations, so the athletes could adjust their posture and movements.
These technologies have been designed to increase muscle memory as well as strength and endurance in elite athletes. In the medical world, similar technologies are being developed to help patients with problems such as Parkinson's disease.
South Korea is the world's fifth largest exporter, the 10th largest economy and home to tech giants including Samsung, LG and Hyundai –it set out to impress and show its dominance in the use of advanced technologies.
In a post-Brexit world, if the UK is to position itself as an advanced economy, it could learn a lot from developments in South Korea.
As always though, these events flag up vulnerabilities; PyeongChang is set to go down in history as the most thoroughly hacked Olympics event yet, but that's another story.
And that impressive drone display – the opening ceremony had to use a pre-recorded video as it was too windy and cold for the live show.