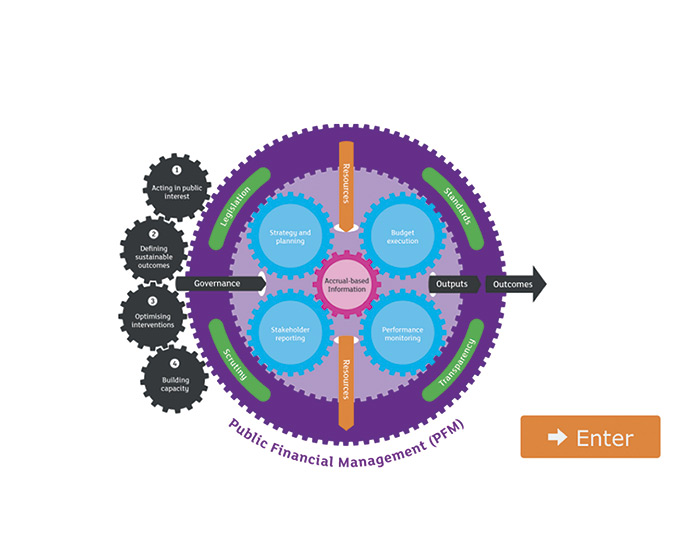 Public Financial Management (PFM) is the system by which resources are planned, directed and controlled to enable efficient, effective delivery of public service outcomes. It is a key part of robust governance.
CIPFA's work on the whole system approach to PFM considers the key elements that influence how the public sector delivers services and achieves broader outcomes for society.
There are a number of international frameworks to ensure strong PFM. No one framework, however, covers all constituent parts of the whole system approach. CIPFA has therefore developed a new portal, Delivering Excellent Public Finance (pictured), to summarise and to provide access to literature and tools.
The web-based portal covers all issues that are fundamental to PFM and its role in governance. It has five main areas: accrual-based information; governance; resources; external factors; and internal factors.

Accrual-based information
Accrual-based information: is useful in evaluating an entity's performance in terms of service costs, efficiency, and accomplishments; provides an opportunity to demonstrate how it manages resources; shows how an entity is financing its activities and meeting its cash requirements; and shows its current financial position and any subsequent change.

Governance
Governance's fundamental function is to ensure that entities achieve their intended outcomes while acting in the public interest at all times. Governance covers the individual elements of good governance as well as an entity's capacity to deliver.

Resources
Public sector entities depend on a variety of resources and relationships. These can be regarded as forms of capital that flow through and out of each entity. Inputs work through the system and are converted into outputs/outcomes.

External elements for strong PFM
PFM is influenced by and implemented through a number of external elements that support sound public accountability.
The elements take the form of: primary and secondary legislation (including rules, regulations and instructions); standards covering procurement, accounting and audit; transparency – defining reporting units and ensuring consistency and comparability in budget coverage to deliver external accountability; and scrutiny by the legislature, the constitutionally independent Supreme Audit Institution through public challenge mechanisms, and other forms of independent external scrutiny.

Internal elements for strong PFM
The internal elements are key areas where effective arrangements need to be in place so an entity can deliver strong PFM.
These include: strategy and planning; budget execution; performance monitoring; and stakeholder reporting.
A public body controls budget planning and execution, monitors the performance and use of its resources, and establishes mechanisms to manage risks and delivery.
The portal builds on best practice by CIPFA and others. It includes links to other information to help stakeholders and practitioners understand PFM. It also identifies areas that could be strengthened and CIPFA will look to work with others to fill these gaps. In this way, the portal will become an evolving tool, improving access to PFM best practice and reflecting new developments.