'Things are falling apart and that's not an opportunity, but it's a starting point for rethinking our relationships and what we're about and what we should we be doing with others. But not because it's an opportunity, because it's a crisis.'
So said one charity leader in a roundtable on the relationship between charities and the state that we, at NPC, held as part of our new research looking at how charities can thrive in a changing world.
This sense of a crisis was borne out in our survey of 300 senior charity leaders. We found of those delivering public sector contracts, 64% were actually having to subsidise these contracts with other sources of income, to successfully deliver them. And 57% reported turning down contracts because the operational risk was too high (see figure below).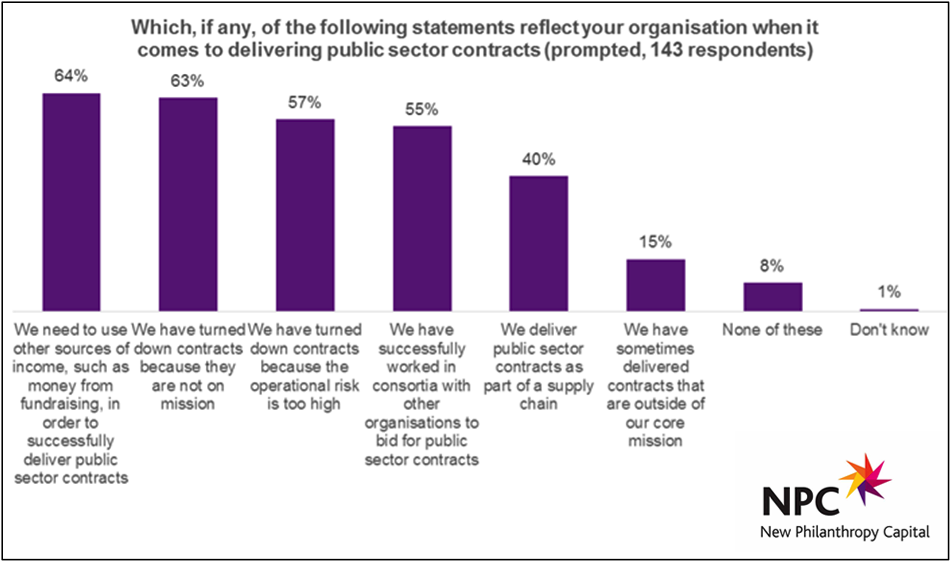 It is probably no surprise to those in the public sector just how strained the relationship between charities and the state has become in recent years. After a decade of increasing investment, and a shift from grants to contracts, the changing role and shape of the state—not least through austerity and devolution—is having a big effect on both partners.
So there's clearly a need to think anew. And the good news is that charities not only recognise this, but badly want it to happen. Throughout the research we had many conversations with leaders identifying what a new, more equal, relationship might look like.
There was a clear view that, at their best, charities have reach into communities, and can step back and see the journey an individual goes on rather than just the point of contact with a particular service. This insight and expertise, along with the ability to amplify the voices of service users, is invaluable to designing and delivering good quality interventions that make a real difference to the people at the other end of them.
For hard-pressed commissioners, this is a potential goldmine of information that is too often missed out in a narrow contracting relationship. There is a real need to recognise the value of this contribution.
But charities can help themselves too—not least by working together more, engaging service users in a meaningful way, and maximising the potential of existing community networks. Through the survey we saw some real positive steps here—with 52% of charities saying they expect to partner more with other charities in the next few years, 72% saying they involved beneficiaries in designing their services, and 46% saying they are looking to build more on community capacity.
There is a need though for some realism to be injected into the charity sector's debates around the pressures on the public sector. There is less money to go around, so we need to work smarter and more collaboratively, not bleat on about turning the clock back ten years.
Even if the relationship is in crisis, charities do see some hope. By bringing together all the assets across a place, co-producing interventions with service users and charities, and maximising the potential of community resources, there is an opportunity to reset the relationship.
And ultimately, as one leader put it 'I think it does happen because actually most commissioners are decent citizens who are trying to solve exactly the same problems as charities'.