Public service reform is seen as key to improving communities and enabling the public sector to make savings in a sustainable way. Can an evidence-based approach to this get partners to work together better, increase efficiency and, most importantly, improve residents' lives so they require less public sector support?
Understanding the interactions between public bodies and the public can be complicated but this is crucial to understanding reforms and assessing them for value for money. To support officers in this, a cost benefit analysis (CBA) framework was developed by New Economy, the economic strategy unit of the Greater Manchester Combined Authority. It was incorporated in the Treasury's Green Book in April 2014, and its use has since spread widely.
The CBA methodology takes a practical approach to applying the principles in the Green Book for public service transformation. It is supported by a spreadsheet template and a unit cost database of over 600 outcomes.
The tools are flexible and can be used to assess costs and savings in schemes from small local projects to major transformation programmes. The following two examples were led by the Department for Communities & Local Government.
In the first, 115 councils bidding in DCLG's Transformation Challenge Award, which supports local public sector bodies to work together, used the CBA methodology to support their business cases. This allowed them to quantify the outcomes of proposals, in terms of both effects on budgets and public value. The public value calculations include economic and social benefits. These proposals were multi-million pound schemes and covered topics as varied as employment support, customer services, integrated transport and domestic abuse.
In contrast, projects in the Our Place programme were focused at a neighbourhood level, and improved joining up between community groups and the public sector to improve residents' lives. The majority were third sector led and, while they concerned financial benefits, economic and social benefits were equally if not more important.
The tool has been used across the country. Citizens Advice used it to understand the value it provides both nationally and locally to communities and the local public sector.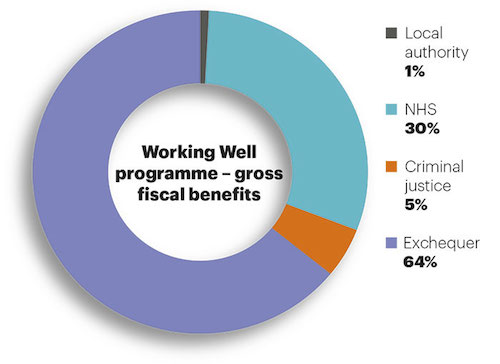 The CBA is strongly embedded in reform plans and devolution agreements where it was developed: Greater Manchester. Here, it is used to evaluate Working Well – a programme to support long-term benefits claimants back to work. In addition, it is being used to plan where to invest the £450m of transformation funding for the Greater Manchester Health and Social Care programme.
Lessons have been learned. First, it is important to start thinking about the analysis early and to involve a wide range of people. Before the analysis starts, the project should have a well-defined scope and logic model clearly showing how the investment should change outcomes. Once the project is under way, it should be evaluated and this evidence fed into future decisions. New Economy regularly updates the unit costs with support from Whitehall analysts, and will be revising and expanding the unit cost database over the summer. The methodology will also be updated to reflect any changes made to the Green Book.
New Economy will be running a workshop session on the cost benefit analysis framework at the CIPFA conference on 13 July