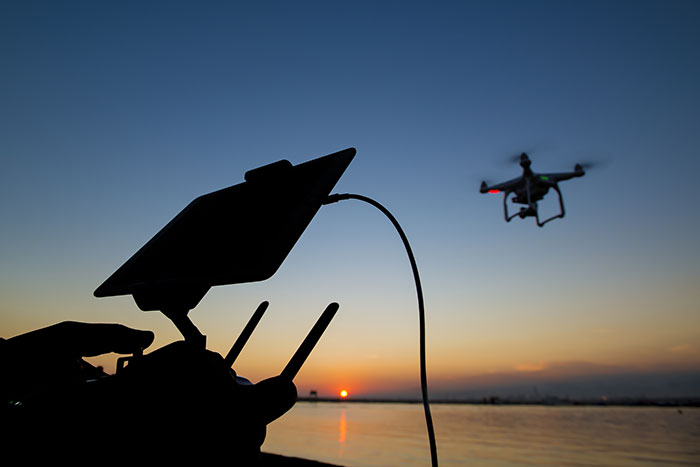 This winter's major flooding in the north has demonstrated the value and potential of drones, or unmanned aerial vehicles (UAVs), in public-sector applications.
I visited Cockermouth, one of the worst affected towns at the time. The areas I saw were completely devastated in the aftermath; many people lost the contents of their homes. The emergency services, including the police and the army, had been deployed to provide support and aid to the local people. Roads had debris scattered all along them for miles, and some bridges had totally or partially collapsed. Soil movement had exposed pipes and drainage systems to the elements. But even in the midst of all this chaos it was possible to identify, with high accuracy, the flood's extent and the damage it had caused, using UAVs.
Drones can provide the basis for better estimates of the extent and damage caused by floods. Unlike other options, such as satellite imaging, they can be inexpensively and flexibly deployed when needed. Their ability to scout around areas reduces the potential for errors caused by building shadows or atmospheric conditions like cloud or pollution, which can be mistaken for flooded areas in satellites pictures. The immediacy of drones can also help to deploy emergency resources where and when they are most needed, helping isolated communities or directing efforts to protect properties or infrastructure as an emergency unfolds.
Traditional evidence, gathered in the aftermath of a flood, opens up opportunities for disputes and inaccurate insurance claims. The immediacy of drones means they can be deployed quickly for an initial survey reconnaissance, even in remote and hard-to-reach locations. In general, health and safety risks are cut to the minimum as the UAV is operated and imagery collected from a safe location (subject to the appropriate Civil Aviation Authority licence). The data gathered can enable accurate validation of claims, based on real-time evidence from the event itself. The use of drones could also, of course, be extended to other comparable insurance claims like storm damage and major road accidents.
The problem is the reputation of drones as pests of the air, more associated with illicit activities and hobbyists than supporting public safety. The issue is international. Dutch police are training eagles to take down illegal drones (leading to interest in the technique from the Metropolitan Police); Japan uses nets to clear rogue drones; a US technology firm has started to sell a drone 'death-ray' to airports. Regulation hasn't been able to keep up with the technology, and the danger is that illicit use of UAVs taints both public and official attitudes, undermining the debate on practical applications.
There are many situations where drones are the answer to difficult challenges around monitoring and information-gathering in hazardous or hard-to-reach locations: in supporting emergency services; crash incident scenes; environmental monitoring; and in building up databases of environmental issues as the basis for planning and managing risks and costs.
As I understand it, the Cockermouth project was the first time the Civil Aviation Authority had given permission to carry out survey works over any congested space in the UK, with a maximum range of 1km from the pilot and up to a potential altitude of 400ft above ground level.
Funded by the Natural Environment Research Council (NERC), this new opportunity brought together commercial flood modelling and risk specialists Ambiental with academic expertise from Cranfield University as well as colleagues from the University of Leicester, Loughborough University and Imperial College London. It forms part of a larger Drone Watch project that aims to advance flood extent mapping and refine current insurance industry practice in evidence-based flood damage assessment.
In another project, working alongside the Environment Agency, UAVs are being used to capture images along the entire lengths of rivers, monitoring the characteristics of watercourses and the effect these have on the surrounding areas. The photographs provide enough detail to identify areas of erosion or slow moving water and can be used to help identify places that may require restoration as well as areas vulnerable to flooding.
Evidence suggests that extreme weather events, including floods, are going to become more frequent, putting a huge strain on affected homes and landowners, as well as pressure on state support services for both an immediate response and long-term planning to manage and anticipate risks and problems. The UK has the technology to be a leader internationally in well-managed, targeted use of UAVs. What's needed to make it happen is a practical roadmap for integrating UAVs into UK airspace, clearly distinguishing between the pests and the new partners in public safety.