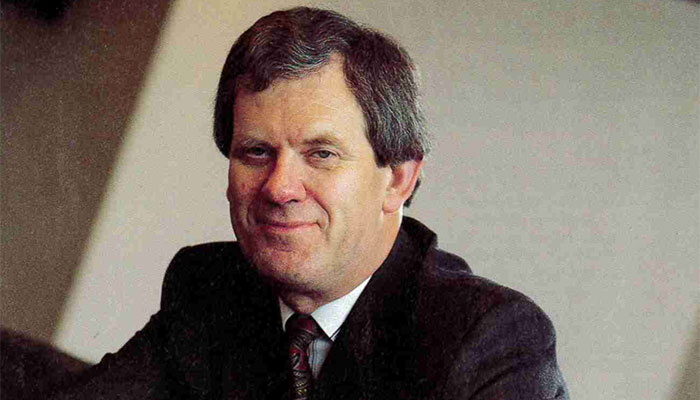 Folwell, who was CIPFA president from 1995 to 1996, has been remember as someone with "charisma and a "reputation for innovation".
CIPFA chief executive Rob Whiteman said: "Gren was a larger than life character about whom there are multitudes of admiring stories.
"Like everyone else, I just admired him so much. The glint and energy in his confident eye contact, imposing presence, keen brain, generous laughter, firm handshake and glorious insights were just marvellous.
"Like everyone who knew him will say, he lived a grand life and certainly left his mark."
Folwell cut his teeth in local government in the 1970s, and became the youngest director of finance of a London borough when he took the position at Bexley aged 33 years old.
He then became city treasurer of Sheffield MDC in 1982. At both Bexley and Sheffield he had a "reputation for innovation", Whiteman said.
At Sheffield, he was part of a working group that tried to resolve the impasse between the government and the Militant-controlled Liverpool City Council, which was refusing to back down from its illegal budget in 1985.
After leaving Sheffield, he moved into the private sector and joined Halifax as treasurer in 1986.
Three years later, he sat on the board as Halifax's group finance director, later becoming managing director and subsequently deputy group chief executive before retiring from the group in 1999.
He was became honorary treasurer of CIPFA (1997 to 2001) and was re-elected to the same position in 2000-01 in the first contested election of the post in living memory.
Mike Weaver, CIPFA president in 2000-2001, said: "We know true charisma when we meet it.
"Election to the institute council brings responsibilities and it has its privileges; it was a privilege to know Gren Folwell.
"It was easy to admire his capacity to inspire devotion and enthusiasm.
"As we reflect on his passing there is so much to celebrate because of his professional excellence, generosity and personal example."
Weaver said CIPFA "owes much" to its culture of voluntary contributions, and Folwell "embraced this whole-heartedly".
This lead to the "modernisation of accounting policies for direct works organisations in local councils, successfully navigating the controversies surrounding rate capping and bus fare policies in the 1980s and developing the institute's greater ambitions to influence public finance beyond local government," Weaver said.
Folwell was born on 6 July 1943 and died peacefully on 15 August 2019.
Weaver said: "He really did live up to our ideals and 'keep the treasury faithfully'."