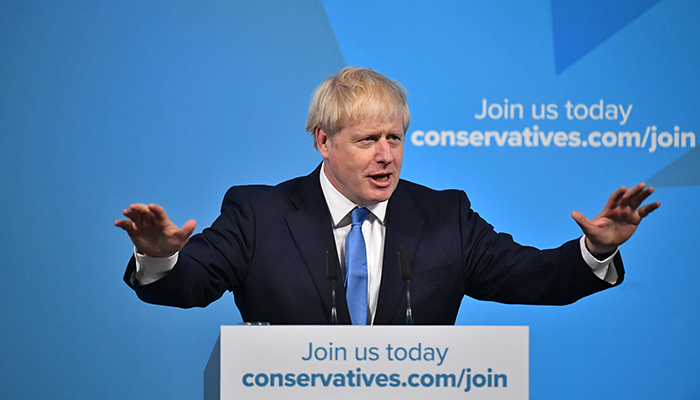 Johnson briefly touched on his spending plans towards the end of a speech following his unveiling as the new Conservative party leader and prime minister in Westminster this morning.
"Like some slumbering giant we are going to rise and ping off the guy ropes of self doubt and negativity with better education, better infrastructure and more police," he told his audience.
Johnson, who will take over from Theresa May tomorrow, also proposed "fantastic full fibre broadband sprouting in every household".
Johnson said that his priorities were to "deliver Brexit, unite the party and defeat Jeremy Corbyn."
The MP for Uxbridge and South Ruislip beat his opponent Jeremy Hunt by a margin of 46,497 votes. The total amount of votes cast stood at 138,809 (87.4% turn out) with Johnson taking 92,153 to Hunt's 46,656.
The former foreign secretary and mayor of London has made a series of pledges during his campaign including raising the higher tax rate threshold from £50,000 to £80,000 and increasing the point at which individuals pay National Insurance Contributions.
Analysis of these policies by the Institute for Fiscal Studies think-tank showed that these proposals would cost around £9bn a year and benefit 8% of individuals in the short term.
Health secretary Matt Hancock, who backed Johnson, also suggested that the new prime minister would not announce any new public sector pay freezes and would make sure workers were "properly rewarded".
Unions warned this would not be enough to rectify public sector workers' low morale.
Kevin Courtney, joint general secretary of the National Education Union, said: "Much was made in the Conservative Party leadership election of the need for more school funding. Boris Johnson made it his second pledge in the TV debate.
"The new prime minister now needs to act to implement a programme of funding that will actually make a difference to schools and colleges and addresses the years of underfunding and ensures teachers' pay rises are fully funded."
Dave Prentis, general secretary of UNISON, the UK's biggest union, commented on Twitter this afternoon:
New Tory leader Boris Johnson has spent the past few months talking up a no-deal Brexit that would be catastrophic for public services. After a decade of austerity, those services just can't afford the shock that crashing out of Europe without a deal would cause.

— Dave Prentis (@DavePrentis) July 23, 2019
Where Johnson may scale back on spending is with the the southern half of High Speed 2. The Telegraph - for which Johnson writes a column - has suggested the new PM would focus on building the railway line in the North rather than London.
The Financial Times has reported over the last few days that the project could cost £30bn more than expected. The newspaper said HS2 chair Allan Cook, who is reviewing the project amid cost concerns, has written to the Department for Transport warning it could end up being between £70bn and £85bn - the original budget was £55.7bn.
Yesterday Jo Swinson became the new Lib Dem leader, beating Ed Davey, saying "Britain deserves better than Boris Johnson".
The Lib Dems vehemently oppose Brexit and Johnson has vowed to take the UK out of the European Union on the 31 October this year with or without a deal being struck.
Swinson has ruled out a pact with Labour, suggesting leader Jeremy Corbyn can not "be trusted on Brexit" and there was no guarantee he would campaign to remain in the EU.
Read Guardian columnist Gaby Hinsliff's article for PF on the likelihood of a public services spending spree from the new prime minister.