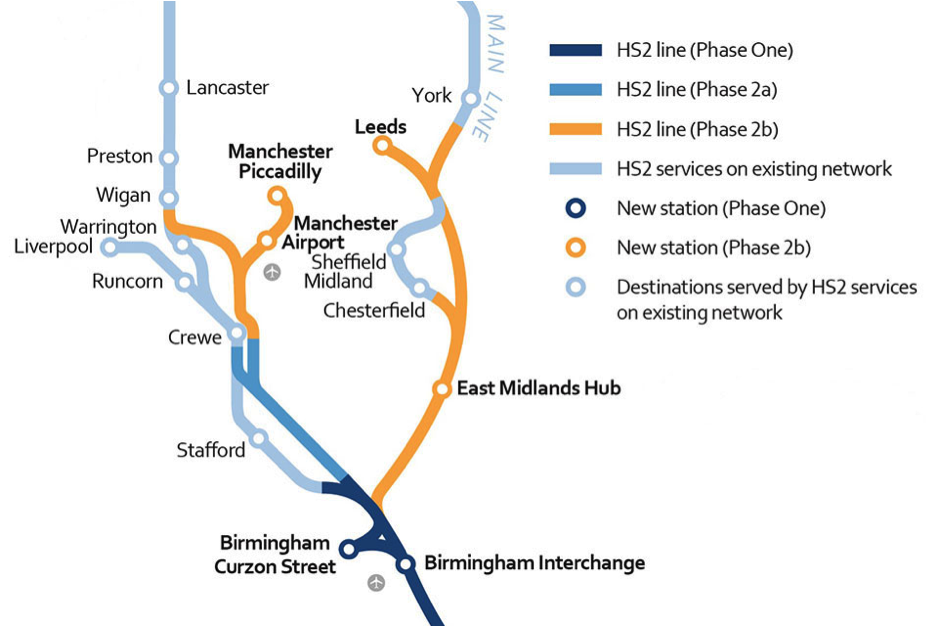 A letter sent to chief secretary to the Treasury Liz Truss urged the government to make a "clear commitment" to phase two of the project, which would see the railway extended from the West Midlands to Crewe and Manchester, and between Birmingham and Leeds [See right]. Phase one runs between London and the West Midlands.
The open letter sent on Friday, signed by over 20 stakeholders, said HS2 is "one of the keys to unleashing the full economic potential of all our regions".
"Failure to make a clear commitment to the full delivery of HS2 at this time would be a disaster for our regional economies and our national prosperity for decades to come," it continued.
Signatories included Andy Street, West Midlands Combined Authority mayor, Judith Blake leader of Leeds City Council and chair of Core Cities UK and Nick Forbes leader of Newcastle City Council.
The letter added: "HS2 is an essential pillar underpinning our respective strategies to deliver faster economic growth which benefits all our communities. Our plans for investment in local transport networks, skills, regeneration and inward investment are predicated on, and integrated with, the delivery of HS2."
It claimed that the city regions around the route are anticipating creating nearly 500,000 jobs and adding billions to the UK economy.
"In determining the continued value for money of HS2, it is essential that the Spending Review avoids making false distinctions between investment in local, regional and national transport infrastructure."
The plea comes amid fears that the project – the largest infrastructure venture in Europe – could be scrapped under new leadership in the Conservative party.
A YouGov poll on behalf of The Times found that 57% of Conservative party members would support a cancellation of the project. Just 32% of members were in favour of continuing it.
Trains are expected to be running on phase one HS2 tracks by 2026 and on phase 2 lines by 2033.
The Institute for Government think-tank warned in January that large scale projects like HS2 are at risk due to the government's preoccupation with Brexit.