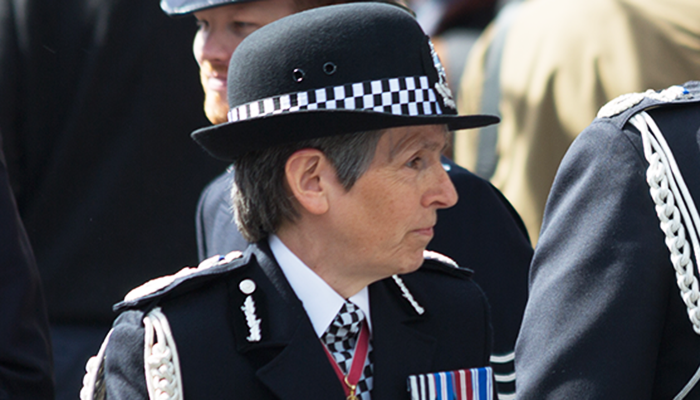 She told a conference her fears that low pay could lead to staffing problems, such as those faced by the prison service.
Dick [pictured above] in her speech at the Police Superintendents' Association annual conference yesterday she said: "I do think that decision [to deny a 3% pay rise] will have affected morale."
"I don't want the government to wait until we are struggling like the prison service with chronic understaffing."
Dick added: "I don't to be disrespectful to the political process or the government, but I do feel disappointed by the decision and I will keep on saying so... because I feel this is a punch on the nose."
The commissioner's comments came on the same day the government's spending watchdog released a report saying the Home Office was failing to ensure that police forces were financially sustainable.
The report from the government's spending watchdog found that central government funding to police commissioners had fallen by 30% in real terms since 2010-11.
Dick told the conference: "This is not a service that needs reform.
"This is a service that needs support and needs resources." The NAO report showed how much the police needed resources, she added.
A pay rise of 3% was suggested by the independent pay review body and backed by the Met, but the government opted for a 2% rise in July.
Dick said the 2% "feels like 1% to our officers".
Gavin Thomas, president of the Police Superintendents'' Association, urged the home secretary to "look again" at the recommendations made by the pay review body.
He told the conference: "For the past two years, policing has been given some of the lowest pay awards out of all the public services - and put in the frankly immoral position of making chief constables choose between giving their staff the pay rise they were awarded, or cutting staff numbers.
"Home secretary, it is simply, and unequivocally, unfair."
Also speaking at the conference, home secretary Sajid Javid said of the 2% rise: "This is a reflection of trying to strike that balance and I'm not pretending it's easy."
He added: "I recognise, and it's something I recognised early on before I was home secretary, that there is a need for more resources.
"There has been an increase in resources in the last three years but I don't think it's enough given the challenges, the complexities and the crimes that you are facing."
In March, 1.3 million NHS workers were given a 6.5% pay rise.
The government announced a pay rise for public sector worker including teachers, soldiers and prison officers in July.