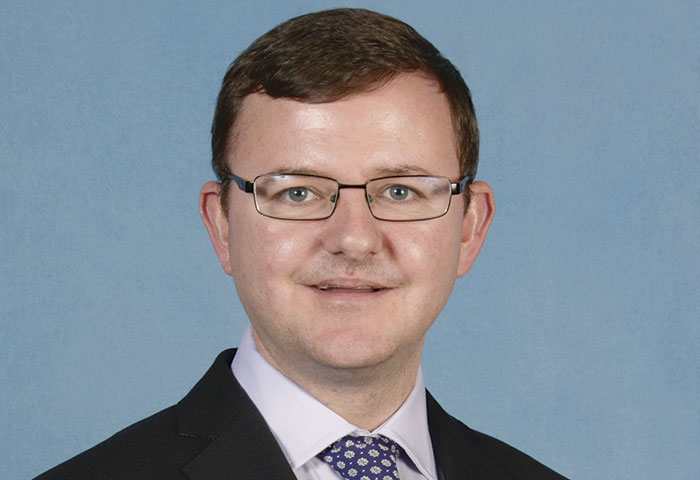 Formed in 2013 to bring together Scotland's eight territorial police forces, the body has seen the departure of two chief constables and a string of operational controversies that kept it on the front pages for all the wrong reasons.
But, in an exclusive interview with PF, Gray painted a picture of an organisation quietly determined to succeed despite significant challenges.
A £60m gap in its revenue budget has been halved in the past two years, thanks to efficiencies in premises, vehicles and procurement and, for the first time, the body has received an unqualified audit opinion.
"As a force executive, we're clear about where we're going," he said, paying tribute to the leadership of interim chief constable Iain Livingstone.
"You hear stuff in the media about what's been happening, and it's not pleasant to see it, because actually the reality is never as bad as the sensationalism you pick up in the media."
Gray, a CIPFA accountant who was appointed from PwC on a permanent basis last year, said cultural and logistical issues arising from the creation of the body were still being felt.
Officers and staff across Scotland feel tied to their regional roots, and speculation surrounding the ongoing restructuring plan has inevitably left people unsettled.
"While we are trying to communicate as much as we can, there will always be people talking among themselves about what may or may not happen," he told PF.
"What we've said is that we'll treat people fairly and keep them up to date with what's going on. Not everybody will get what they what want out of it, but we have to take a national view on what's best for the police service."
One of the most pressing but difficult issues has been the creation of a single payroll system and, once that is in place, harmonising terms and conditions for the force's 17,000 officers and 5,500 staff.
A third of payroll staff are expected to take voluntary redundancy under the new system, which will save £1m a year through economies of scale.
Police Scotland was heavily criticised by Audit Scotland two years ago for its poor financial leadership and inaccurate record keeping.
Gray admitted financial planning had been a "blind spot", and the early focus had been on deploying officers to meet changing demands such as those arising from historic child sex abuse cases.
A skeleton three-year plan is now in place, setting out how the organisation plans to eradicate its deficit by 2020-21, but the detail will depend on the overall business plan, which is being developed.
Workforce planning is equally critical. Three pilots will see dedicated civilian staff instead of police officers running custody suites, which should cut costs and free up officers for other duties.
The potential productivity gains are massive, Gray argued, but government commitments to increase police officer numbers have limited flexibility in achieving the best workforce mix.
However, this year's budget contains a commitment to reducing policing numbers by 100 through a slowdown in recruitment, which has been approved on the basis that there will be no impact on frontline policing.
A further reduction of 300 is being considered for next year, with the same proviso.
"While there is pressure on the budget, it's easy to say this is finance driven, but it's not – it's investment driven to create the capacity and productivity gains that allow us to balance the budget but also enhance the police service," he said.
Gray said he was optimistic that the next audit report would recognise the positive changes, with auditors already having noted improvements in budget setting, monitoring and forecasting.