From 2005-2006 to 2015-16 the number of working-age couples with children in poverty went up to 23% of the Welsh population, the report from the charity, out last week, showed.
It had dropped to a fifth of the population between 2003-04 to 2005-06 from 25% between 1994-95 to 1996-97, JRF pointed out.
"Poverty is closely linked to physical and mental ill health among both adults and children," the report said.
"Higher levels of physical and mental health problems culminate in a gap of around 15 years in healthy life expectancy among those living in the most deprived parts of Wales, compared to those in the least deprived areas."
The report added: "The stress of poverty also affects relationships, particularly between couples and between parents and children."
JRF also found pensioner poverty in Wales (18% of the population) now outstripped that of England and Scotland.
In 1994-95 to 1996-97 and 2003-04 and 2005-06 the rate of pensioner poverty in Wales was less than in Scotland and England.
See graph below.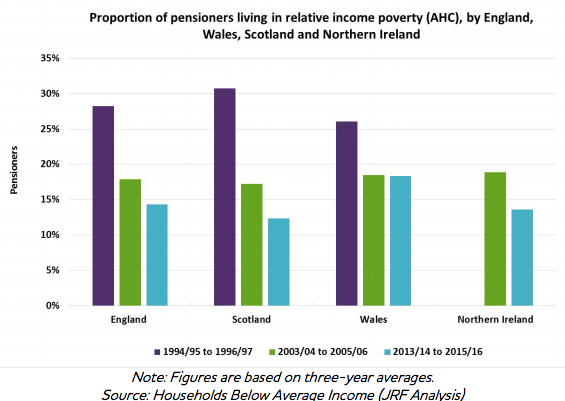 From 2009-12 the proportion of the population in poverty has remained stable at 23%, which is less than the 27% in 1994-1997.
"Over the last 20 years the poverty rate for Wales has generally been higher than in England, Scotland and Northern Ireland," the report noted. It remains higher than in the other countries in the UK.
JRF noted worklessness in Wales had fallen but "poverty in Wales is now higher than in the rest of the UK for workless households".
Campbell Robb, chief executive of the JRF, said: "Low-paid, unstable jobs, rising living costs and insufficient benefits mean that many people in Wales are locked in a daily struggle to make ends meet."
Victoria Winckler, director of the charity the Bevan Foundation, said: "The stress and hardship of not having enough to live on blights people's lives, whether they're children or pensioners, and costs the public purse dearly."
The main poverty indicator used in the report was when a household income was less than 60% of the median income.