Adult social care – the top worry for CFO for the past four years – has now dropped one spot to number two, the institute and local government consultancy firm Peopletoo outlined in their Changing Children's Lives report.
The pressure on children's social service budgets and growing demand is driving this concern, according to the survey of 73 chief financial officers in England.
The report stated there needs to be a greater focus on effective use of public money as demand is "outstripping" budgets, close to £1bn over the past three years, and there has been no radical improvement in children's services outcomes in a decade.
Sean Nolan, director of local government at CIPFA, said: "It is important that the government recognises and understands why we have seen the surge in demand for children's care.
"And that meeting the demand requires more than just providing pounds and people – it is a complex process that touches many different services."
Nolan said it was not sustainable for children's services funding to reduce as demand was rising.
In addition to the funding shortfall the report also highlighted the case for improving the skills of service managers and frontline staff as well as improving leadership and performance management at the corporate level.
Maggie Kenney, chief executive at Peopletoo, said: "Already a system under severe financial pressure, the threat of the 'death of a child', a high profile case attracting unwanted national media, an inadequate Ofsted rating, are what keep many senior officers and members awake at night."
She warned that this was leading to a reluctance to drive further efficiency from children's social care.
This, she said, was placing further strain on other council services to deliver savings in order to balance the books.
Preventative and early help services were being sacrificed, which had a knock on effect, Kenney added.
"In our experience the impact of reducing effective early help can very quickly create demand on higher tier services which in the longer term increases spend," she said.
See the results of survey below: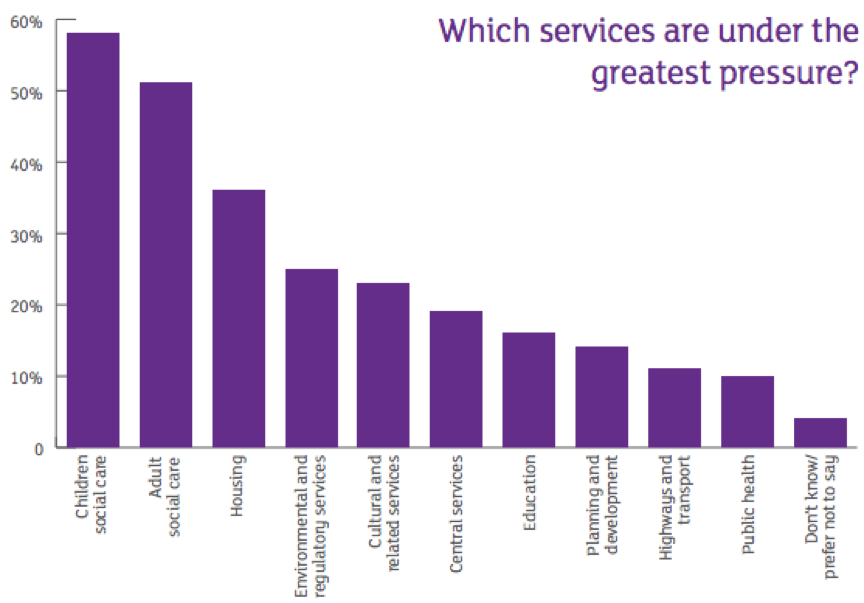 Source: Changing Children's Lives report