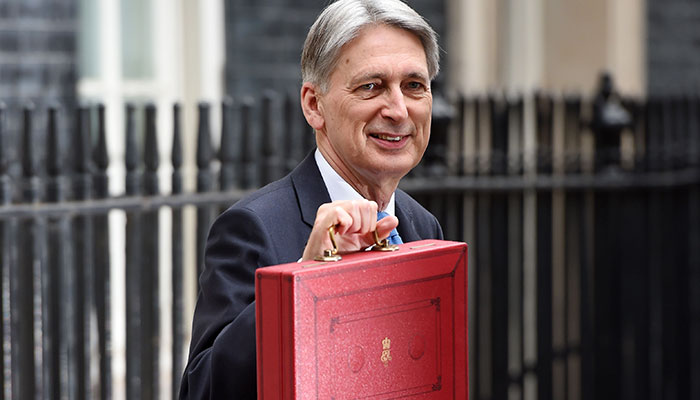 Chancellor Philip Hammond said in his speech to the Commons this would get councils "building again", as he reiterated his ambition for 300,000 homes a year to be built by the mid 2020s.
Local authorities will be invited to bid for increases in their caps from 2019-20, up to a total of £1bn by the end of 2021-22.
The Budget document said the government "will monitor how authorities respond to this opportunity, and consider whether any further action is needed".
Chair of the Local Government Association Lord Porter said: "This is an important recognition of our argument about the vital role that councils must play to boost homes for local families in need and solve our housing crisis, but does not go far enough."
He said the borrowing caps should be lifted for all councils.
Gavin Smart, deputy chief executive at the Chartered Institute of Housing, said: "Relaxing borrowing caps for councils in high demand areas is very positive – we hope to see the government build on this move so that we see a return to the levels of council house building we need."
The HRA pledge was alongside a commitment to plough £44bn of capital funding, loans and guarantees to "support out housing market", as well as "boost the supply of skills, resources and building land".
Hammond said £8bn would be in guarantees, and he gave an extra £2.7bn to the Housing Infrastructure Fund, a £630m small sites fund, £400m for estate regeneration and a £1.1bn fund to unlock strategic sites.
Sarah Longlands, senior research fellow at IPPR North, said national housing targets were "fairly meaningless".
She said: "What we actually need are effective local and northern targets for housebuilding which reflect economic and affordability contexts".
The chancellor spoke about the Grenfell Tower fire in the summer, which he said "should never happen again", and announced a £28m pot for Kensington and Chelsea for residents' mental health support and community regeneration.
He reiterated the government's comments that there should be "no financial constraints" to essential fire safety work and any local authority struggling to pay for this should contact the government "immediately".
Hammond stated the government would give financial help to any council that needed to do this vital safety work but did not give any figures on how much would be committed to this.
The chancellor also used today's Budget speech to indicate that planning reform will be used to boost construction.
He said: "Solving the housing challenge takes more than money. It takes planning reform. We will focus on the urban areas where people want to live and where most jobs are created."
Hammond stated New Town Development Corporations will be used to "kick-start" five Garden Towns in areas of demand pressure which would be delivered through public-private partnerships.
To support local authorities and encourage developers Hammond said the Homes and Communities Agency would become Homes England, bringing together money and expertise, and planning and compulsory purchase powers.
The government also announced it will give local authorities the power to increase the council tax empty homes premium from 50% to 100%, to encourage better use of the existing housing stock in their area and to increase the supply of housing in England.