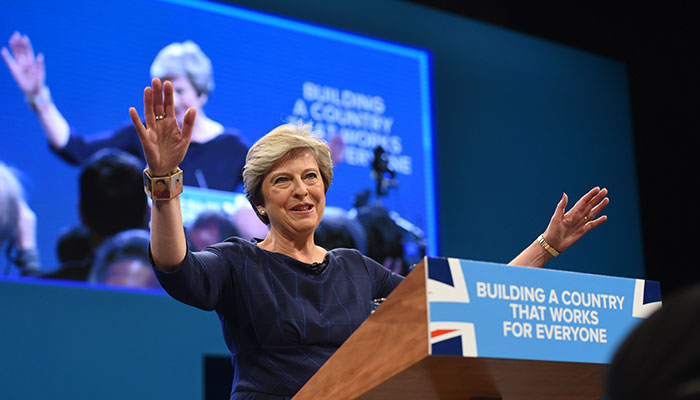 She told the Conservative Party conference in Manchester today this was the corner stone in her bid renew the "British dream".
The prime minister said councils and housing associations can bid to use the government's affordable homes budget, which now stands at a total of £9bn.
Speaking about the housing crisis she said: "I will dedicate my premiership to fixing this problem … to restoring the British dream".
She said: "We will encourage councils as well as housing associations to bid for this money … And in those parts of the country where the need is greatest, allow homes to be built for social rent, well below market level.
"Getting government back into the business of building houses. A new generation of council houses to help fix our broken housing market."
May reminded the conference chancellor Philip Hammond had announced earlier in the week a further £10bn would be put into the Help to Buy equity scheme.
She also pledged an independent review of the Mental Health Act and a change to the organ donation system, which brings England in line with Wales where there is an 'opt out' system.
Speaking about the NHS she said the "world class" service would increase funding per head over the course of the current parliament.
She reminded the Tory party delegates of her government's commitment to free schools, with the plan of building 100 new free schools every year of this parliament.
"Because free schools work. And it's the right thing to do," she said.
On Brexit she said if the UK approached the negotiations in a friendly, constructive manner a good deal could be agreed for both this country and the EU.
She reiterated her comments from Florence about valuing the input of immigrants, stating yet again "we want you to stay".
The prime minister urged negotiators on both sides to get on with securing reciprocal rights for EU citizens living in the UK and UK citizens in member states.
Other points raised in her address included a commitment to renewing Britain's nuclear deterrent and keeping defence spending at 2% of GDP and 1.7% on aid.
In addition May confirmed that the government would scrap the planned increase in tuition fees, raise the level graduates have to earn before they pay pack fees to £25,000.
May also used this speech to apologise for the poor election result, she said the campaign had been "too scripted, too presidential", stating "I'm sorry".