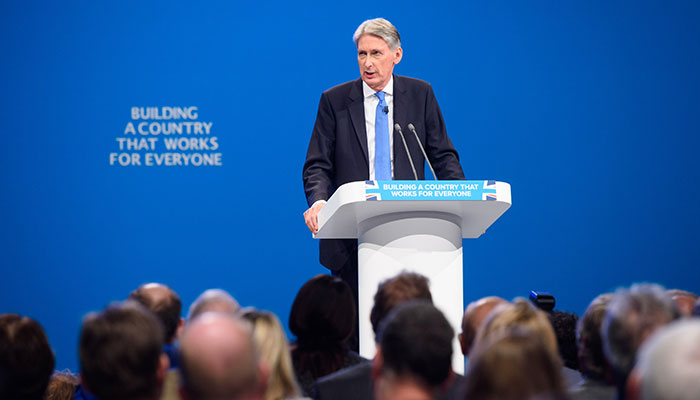 The chancellor told the Conservative party conference in Manchester today he was "committed" to the Northern Powerhouse, which seeks to turn the cities in the region into a single connected market.
He said this extra funding would "future proof" the railway network in the North.
The Conservative press office had already announced the party was investing £100m in road schemes across the north:
We are investing £100 million in road schemes across the North of England – part of a £400 million plan to back the Northern Powerhouse. pic.twitter.com/py00AjQG8q

— Conservatives (@Conservatives) October 2, 2017
The extra £300m will go towards ensuring the high-speed link HS2's infrastructure can accommodate future Northern Powerhouse Rail and Midlands Connect services.
This would enable faster services between the Northern cities of Liverpool and Manchester, Sheffield, Leeds and York, as well as on towards the East Midlands and London, the Treasury has said.
Hammond also repeated the announcement made over the weekend of a further £10bn to provide equity loans under Help to Buy, to assist people onto the property ladder.
He said: "Too many young people, the housing market looks rigged in favour of those already way up the ladder and against those on the bottom rung."
The chancellor also said an extra £23bn is going into high-return schemes such as housing, transport, broadband and research and development that would "drive Britain's productivity performance".
This would assist the business secretary Greg Clark's Industrial Strategy to "harness the power of government to spread economic growth across the length and breadth of the UK".
Hammond issued a defence of market economics to the conference in a rebuff to state-led economics outlined by Labour.
The chancellor of the exchequer warned that a "return to 70s-style state intervention in the economy" would be a disaster for the UK and a significant departure from the economic consensus of the last 35 years.
He said the idea that the UK could borrow its way out of trouble and the state could run the economy as "delusional".
On Brexit, a Hammond reiterated Theresa May's comments that Britain was leaving the EU not Europe as he said the UK had rejected the concept of ever greater political union.
Echoing her conciliatory tone he said the EU and the UK's economic future would remain "closely linked" but its political future would be its own.
He stated: "The future prize is great. If we get this right Britain will have a bright future beyond Brexit. But to get to it, we must be clear-eyed about the challenge along our way.
"We must not downplay the difficulties nor underestimate the complexities. This will be one of the most challenging tasks every undertaken by a peacetime government but with focus and determination and unity, we will succeed."