The charity today published its analysis of homelessness in all its guises in England, Scotland and Wales, prompting housing groups to warn the problem is likely to get worse unless more housing becomes available and there are changes to welfare.
According to Crisis, in 2016:
9,100 people were sleeping rough
68,300 households were sofa surfing
37,200 households were living in hostels
19,300 households were living in unsuitable temporary accommodation
12,100 households living in squats
8,900 households sleeping in tents, cars or on public transport
5,000 households in women's refuges or winter night shelters.
The report warns that, if current policies continue unchanged, the most acute forms of homelessness are likely to keep rising, with overall numbers estimated to increase by 26.5% and households in unsuitable temporary accommodation set to rise by 93%.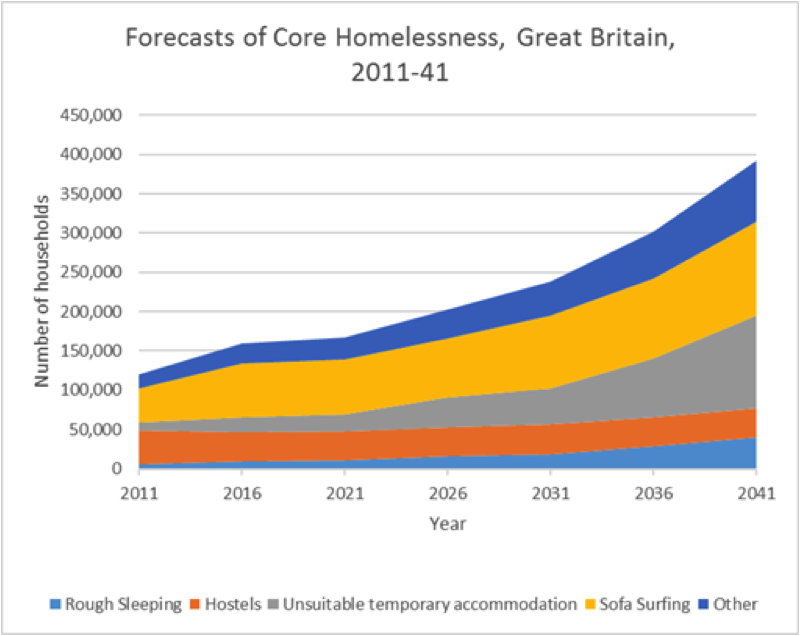 Jon Sparkes, chief executive of Crisis, said: "Regardless of what happens in people's lives, whatever difficulties they face or choices they make, no one should ever have to face homelessness. With the right support at the right time, it doesn't need to be inevitable. There are solutions, and we're determined to find them and make them a reality."
Faye Greaves, policy and practice officer at the Chartered Institute of Housing, commented: "Homelessness has been steadily rising in all its forms since 2010, partly because of the pressures on the housing market but also some of the welfare changes that have come into force over the past few years.
"Today's report is a stark warning of the potential outcome if we don't start taking action now."
A spokesman for the Department for Communities and Local Government said the government plans to spend £550m by 2020 on homelessness, £30m of which will go directly to helping rough sleepers through support on mental health, substance abuse and housing.
He added: "We're implementing the Homelessness Reduction Act, which will require councils to provide early support to people at risk of becoming homeless. There's more to do and ministers will set out plans shortly."