The think-tank has published figures showing the number of civil servants from ethnic minority backgrounds was still lower than the population as a whole.
In 2016, 11.2% of all civil servants declaring their ethnicity identified as BAME (Black and minority ethnic), up from 9% in 2010, and 4% in 1988.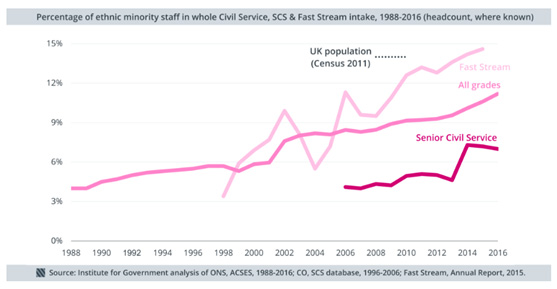 However, this is still lower than the 14% they made up in the population in 2011, according to the census from that year.
There is also evidence that BAME civil servants still face discrimination in the workplace.
In the Home Office's Civil Service People Survey 2016, 15% of BAME civil servants said they had personally experienced discrimination at work in the past 12 months, compared to 12% of white civil servants.
This is an improvement on 2010, when 18% of BAME civil servants expressed that they had experienced discrimination at work. But since 2011 little progress has been made, with a persistent gap of three percentage points between white and BAME civil servants.
According to the IfG research, BAME civil servants are not progressing to senior civil service level roles, as just 7.1% of senior civil servants are from an ethnic minority.
The think-tank's report notes that there are also no permanent secretaries from an ethnic minority in charge of a Whitehall department.
Yesterday's report notes that last year most ethnic minorities were employed in lower grades such as executive officer and administrative officer/assistant jobs.
However the analysis highlights that in 2015 the fast stream programme – a key pipeline for future civil service leaders – saw 14.2% of the participants come from minority ethnic backgrounds, which is in line with the national population figures.
There are some interesting variations between departments. The Foreign and Commonwealth Office has the lowest percentage of BAME senior civil servants at just 2.9%.