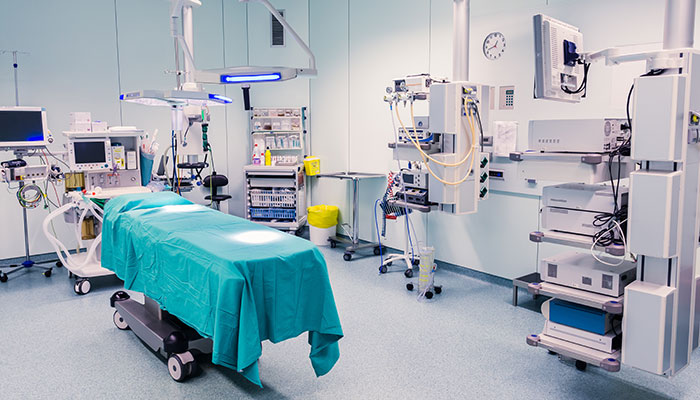 Using data obtained through freedom of information requests, PF has been able to estimate just how much time – and money – is being lost as NHS trusts battle to meet demand amid a shortage of beds and staff. The figures show how a drive to make savings is stretching the NHS to its limits, creating exactly the inefficiencies the system is trying to avoid.
In just 20 acute NHS trusts in three months during last year's 'winter crisis', theatres and surgical teams sat idle for just over 11,500 hours when surgeries were supposed to be taking place, but were instead cancelled or delayed.
While this was more than were lost for the same reasons in three months during the summer of 2016, the difference was only around 560 hours, suggesting trusts are constantly close to being tipped over the edge.
The hospitals in PF's sample correspond to around 13% of England's 153 acute trusts, some of which are significantly different from one another. However, using this sample to extrapolate a rough estimate for all of them would suggest theatres lie empty, when they should be full, for almost 350,000 hours annually.
Ian Eardley, vice president of the Royal College of Surgeons, said this was "not surprising" and that it reflected just how close to breaking point the NHS was operating all year round.
"It's about bed capacity," he told PF. "In the old days the NHS was run with quite a bit of spare capacity, and now it's run with less."
The RCS warned last November that bed reductions had gone "too far" in the absence of sufficient social care or community services. The maximum 'safe' overnight bed occupancy rate – 85% – has not been met since 2011, and this has hovered at around 90% for the past three quarters of this year.
Cuts to overnight beds are part of the problem – some 12,000 are estimated to have been lost since the start of the decade. A bigger issue is that many of them are full with people who Eardley said "could and should" be elsewhere, but can't be discharged without adequate social or community support.
He emphasised how "frustrating" it is for both staff and patients when operations are cancelled or delayed at the last minute because there are no beds available.
But there are other costs too. Jane Payling, head of health and integration at CIPFA and former finance director at Papworth Hospital NHS Foundation Trust, said theatres are among a hospital's most expensive resources.
Average theatre costs per hour also vary substantially, and there are no official estimates. NHS Providers has put this at £561p/h, while in 2009 the NHS Institute for Innovation and Improvement (now closed) said this could be as much as £1,200p/h.
That would suggest somewhere in the range of £193m-£413m could be being lost every year as a result of the impact of shortages on planned surgeries alone. Payling noted that even the conservative estimate for losses frpm just cancellations (around £68m) equates to the cost of running a small district general hospital.
"When we're looking all the time at savings across the health service its quite sobering to think that this amount of money is being lost," she said.
The true figure could also be higher. Many delays occur in between two surgeries taking place, during what is known as 'turnaround' time. While some turnaround time is normal as the operating theatre is prepared for the next patient, some trusts recorded durations of more than five hours.
It should be noted that estimates of theatre costs per hour take into account the cost of, for example, medicines or prosthetics used in surgeries that do take place. However around 65% of NHS Providers' estimate is made up of staff costs.
Saffron Cordery, director of policy and strategy at NHS Providers, said highly skilled surgeons, anaesthetists and nurses are left "kicking their heels", with no choice but to wait for beds to become free before they can operate.
Eardley said he could use this time to catch up with administrative work or to see more patients for appointments – but this is not possible when cancellations occur at the last minute as is usually the case. At the height of the winter crisis, Eardley said he went one to two weeks without doing any surgery.
"At a time when the NHS is being told to be more efficient, this is a waste of resources," said Cordery.
"Trusts are working flat out to meet performance targets and protect the quality of care, but shortages of staff and beds mean this is increasingly difficult."
Responding to PF's findings, a spokesperson from NHS Improvement said the body is working with trusts to improve efficiency, including by helping them increase the number of operations they can carry out with existing theatres and staff.
Hours of surgery booked to take place

Hours of surgery cancelled

Hours of delays to surgery at the start of the day

Summer 2016

124,884.2

3,468.2

7,495.2

Winter 2016-17

123,503.3

4,474.1

7,053.8

Whole year

496,774.9

15,884.6

29,098.1

All 153 trusts (extrapolated)

3,800,328.0

121,517.2

222,600.5

Total cost (£)

Low estimate

193,050,030

High estimate

412,941,240
The figures above cover elective inpatient surgeries in 20 hospitals across England over two periods: June, July and August 2016; and November and December 2016 and January 2017
All trusts collect information differently and not all of the respondents could provide complete data. As a result, some of PF's calculations have been based on average rates, and the results can only be considered estimations rather than precise figures.
The figures for the whole year have been calculated as (summer figure x 2) + (winter figure x 2)