The Asset Based Finance Association found through freedom of information requests to councils some were delaying payment of invoices by up to 38 days.
The national average was 16.35 days in 2015/16 – down 1% from 16.53 in the year before, the organisation stated in its study released today.
Jeff Longhurst, chief executive of the ABFA, said: "Central government has procedures in place to try to ensure prompt payment to their suppliers - who are often larger companies - but local councils are still dragging their feet."
He added: "Some progress has been made but public sector organisations should be acting as examples for the private sector to follow."
The culture of slow payments acted as a "roadblock for SME businesses' potential for growth", Longhurst believed.
The ABFA FoI figures, whose members include banks and non-bank finance providers in the UK and Republic of Ireland, showed many local councils exceeded the 30-day period for paying invoices, which is mandated by the Late Payment of Commercial Debt Act.
The act came into force in March 2013.
Peterborough and East Renfrewshire were joint first for slowest payments in 2015/ 16 – taking on average 38 days to pay invoices. Richmond on Thames was the next on the list – paying suppliers, on average, within 36 days.
[Story continues below]
Top ten councils for late payment in the last year: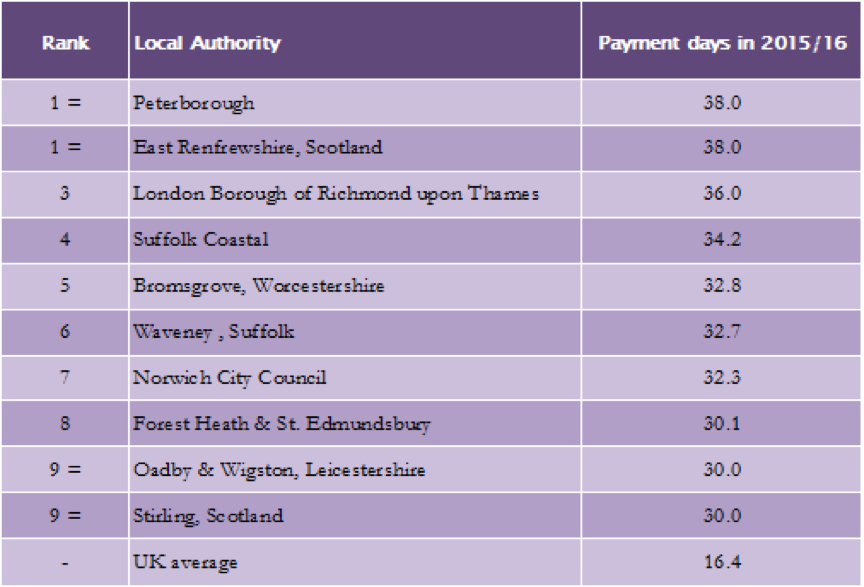 Longhurst said SME suppliers were often worse hit. "SME subcontractors are often hit twice by late payments," he explained.
"Both from the local council and the main contractor. As the last link in the chain, they can end up waiting for months for payment."
"Progress in the time taken for local councils to pay their contractors and suppliers has been glacial, falling just one day since 2009," the ABFA CEO said.
He believed local authorities should "look after SME contractors at every step of the process" and speed up invoice payments.
Whitehall has a target of paying 80% of their invoices in five days but there is currently no binding target for local councils.
Public Finance conducted a webinar on how to pay suppliers promptly and support local growth earlier this month with speakers including Rob Driscoll, head of commercial and legal affairs at Building Engineering Services Association, and Stephen Tokley, a senior policy advisor at the Cabinet Office. Which you can now watch on demand.
Local councils taking over two weeks on average to pay invoices: