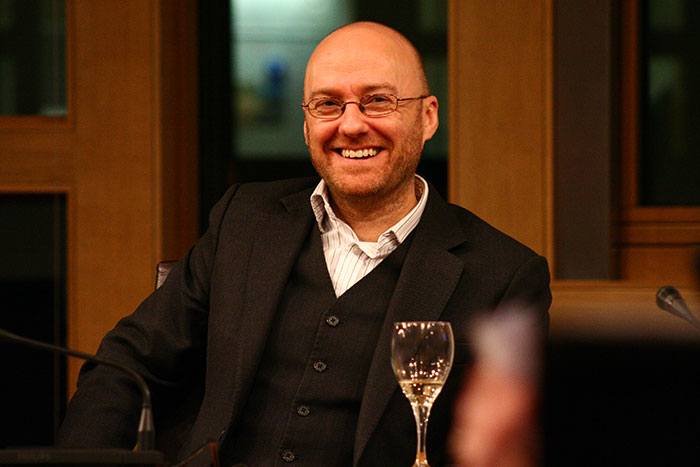 Patrick Harvie called for a much more inclusive approach to future Budget rounds, whereby all parties would submit proposals for finance committee scrutiny, with the outcome contributing towards the draft that would be brought before parliament.
He was speaking shortly after striking an 11th-hour deal with finance secretary Derek Mackay that allowed the SNP minority government to overcome parliamentary opposition to Scotland's first Budget since Holyrood took charge of income tax.
The deal, which saw Mackay produce an extra £160m for councils and tighten the fiscal screw on higher-rate taxpayers, earned Harvie scorn from both left and right. Labour accused him of acting as a "fig leaf" for SNP spending cuts, while the Tories called the Greens "lentil-munching, sandal-wearing watermelons".
An unrepentant Harvie told PF his priority had been to reverse proposed cuts to councils and that the £160m, generated from underspends in the current fiscal year, came close to doing that, although the Greens would have preferred the cash to have come from a tax hike on higher earners.
"It would have been wrong for us to look at that £160m and say, it's not good enough because it's coming from the wrong place," Harvie said. "That would have been highly irresponsible."
He accused other parties of treating the Budget "as an exercise in showing how much they hate the SNP", and said it was typical of post-referendum politics, which were about "who can shout the loudest".
Certainly, the deal highlighted the split in Scottish politics since 2014, with both pro-independence parties voting for it and all the unionist parties against.
"No party should be willing to see the wreckage that would come from saying no to the Budget, and that means that all parties should be willing to compromise," Harvie said. "Next year's Budget is very clearly going to be much more difficult because, unless the SNP are willing to accept some tougher choices on the tax side, they are going to have to squeeze services even harder." He suggested that the government started by abandoning its plan to phase out air passenger duty, a move opposed by the Greens on environmental grounds.
The Budget process is under review by an independent commission, whose members include the head of CIPFA Scotland, Don Peebles. Harvie said a system was needed that took proper account of the likelihood that minority government would be the norm under Holyrood's electoral system.
"The Budget review needs to come up with a pre-Budget process under which opposition parties' proposals can form part of the package," he said. "That means that opposition parties would have to be involved in defending their own proposals as well as attacking the government's." The shift to autumn Budgets at Westminster means the Scottish Budget process can no longer wait for the UK block grant to be set before it starts: "There should be a government discussion paper first, with an assessment of the financial flexibility they have, then opposition parties, think-tanks, interest groups and so forth should put in proposals."
Holyrood, Harvie argued, needed to get away from the convention that a government should spend a parliament working through its manifesto, and create a Budget process that was more responsive to changes in fiscal or economic circumstance.
"A party in minority government should not have that mentality of controlling everything through the Budget process behind closed doors," he said. "Parties in a minority have to accept they don't always get their way."