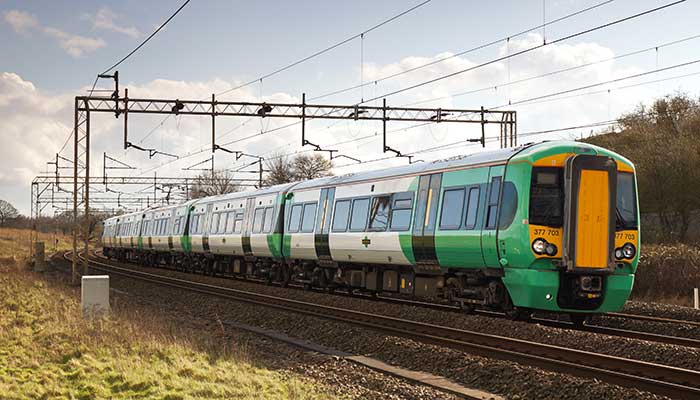 In a scathing report on the problems that have hit the company's services, in particular on the strike-hit Southern Railway, the transport select committee also complained the company had been slow to provide vital information.
In a report The future of rail: Improving the rail passenger experience the committee, which has a Conservative majority, said "If GTR [Govia Thameslink Rail] is in default, it is incumbent on the Department [of Transport] to take the franchise back in house and then to find one or more operators that can improve the situation."
They said it was "simply not credible" for the DfT to continue to claim that no other operator could improve the situation.
"If it is the case, it is a consequence of the structuring of the franchise, for which the department is ultimately accountable," the report said.
The report said the DfT should have "a workable enforcement policy for all rail franchises" with "a clear and credible threat to restructure or terminate GTR's franchise agreement should it default on its contractual obligation".
Contingency plans for this should be developed including the break-up of GTR's huge franchise area.
GTR's huge franchise was formed in 2014 from four previous ones: Thameslink, Great Northern, First Capital Connect and Southern.
The MPs said this was an impractically large and complex area for one franchisee to handle and noted: "We welcome the department's acknowledgement that, in hindsight, it was a mistake to amalgamate four existing railway brands into one huge, diverse and highly complex rail franchise delivered via a single operator, on a part of the network undergoing very substantial infrastructure works".
A DfT review should be initiated to find out why "the planning assumptions for the franchise were so poorly forecast."
The worst of GTR's problems have come at Southern, where there has been a protracted dispute with the RMT trade union over driver only operation of trains.
Southern revised its timetable earlier in the year to drop large numbers of trains and GTR has consequently claimed that it is not in default of its franchise obligations because it is running the reduced timetable.
The committee was sceptical. "GTR claims that unofficial industrial action necessitated the implementation of a revised timetable, which appears to have contributed to GTR exceeding the contractual default level for cancellations," it stated.
MPs accepted that assessing GTR's claim that industrial action constituted force majeure – so exempting it from being in breach – would be complex, but added: "It is unacceptable, however, that the process is being delayed by GTR's tardiness in supplying the information required to support its force majeure claims.
The DfT must ensure that data on GTR's performance against its contractual obligations was made publicly available as "our lack of access to these data during the inquiry was totally unacceptable. It hindered our work and delayed publication of this report," the committee said.
Committee chair Louise Ellman, said: "Passengers must be furious - and rightly so. Passengers now contribute more than 70% of the industry's real income, but in too many places, passengers are badly service by train operating companies."
Responding to the report, a DfT spokesman said: "Improving rail services for Southern passengers is a priority for the government and for the operator, and we are committed to a railway that delivers the modern, accessible and reliable service passengers expect.
"Simply changing the management or taking the franchise from GTR would not address the issues and would only create uncertainty and cause further disruption. It could also delay the introduction of modern, more spacious trains by Southern."
The department said GTR could claim force majeure where it could provide evidence that cancellations were due to official or unofficial industrial action.
GTR chief executive Charles Horton said that despite investments in trains "performance is still way below where we want it to be".
He said GTR has submitted claims for force majeure to the DfT "caused by the unprecedented industrial action and we have co-operated fully with what's been asked of us at all times", with claims for force majeure now being assessed by the DfT.mark