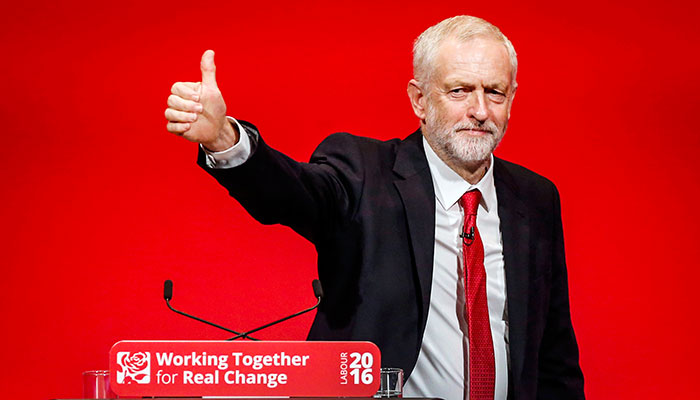 In his speech to the Labour party conference, Corbyn said the ten pledges he set out in his successful leadership campaign would be the basis of the party's programme at the next election.
The proposals, which were endorsed by the conference, include a secure homes guarantee and pledge to build a million new homes in five years, including at least half a million council homes. There is also a pledge for full employment and the creation of a publicly owned National Investment Bank.
They also include a promise to end privatisation in the NHS and create a national education service, open to all throughout their lives, funded by higher business taxation.
Corbyn told delegates these show "the direction of change we are determined to take – and the outline of a programme to rebuild and transform Britain".
He said the plan was rooted in traditional Labour values and objectives shaped to meet the challenges of the 21st century.
"They are values Labour is united on. They reflect the views and aspirations of the majority of our people. And they are values our country can and will support as soon as they are given the chance."
He highlighted that Labour councils across the country were working to make a difference to the lives of millions of people.
In government, the party would help councils "put public enterprise back into the heart of our economy and services to meet the needs of local communities", he stated.
"So today I'm announcing that Labour will remove the artificial local borrowing cap and allow councils to borrow against their housing stock. That single measure alone would allow them to build an extra 12,000 council homes a year."
As part of a plan for to use local authorities as an engine of local growth and development, Corbyn also highlighted that Labour councils were increasingly providing services in-house. For areas including bin collections, cleaners, and IT services, this could save money and ensure good terms and conditions for staff, he added.
The party would also reinstate the migrant impact fund as part of measures to address concern about the effect of migration levels on public services, but Corbyn pledged to not make "false promises" to reduce numbers.
"We will not sow division by fanning the flames of fear. We will tackle the real issues of immigration instead whatever the eventual outcome of the Brexit negotiations and make the changes that are needed."
The £50m migrant impact fund was established by the last Labour government in 2009 to provide additional support for areas that have seen large levels of migration, particularly from the European Union, through a £50 levy on the visas of non-EU migrants. It was scrapped as part of the coalition government's deficit reduction programme in 2010.
Reintroducing the fund would give extra support to areas of high migration, Corbyn said. "We will use the visa levy for its intended purpose. And we will add a citizenship application fee levy to boost the fund."