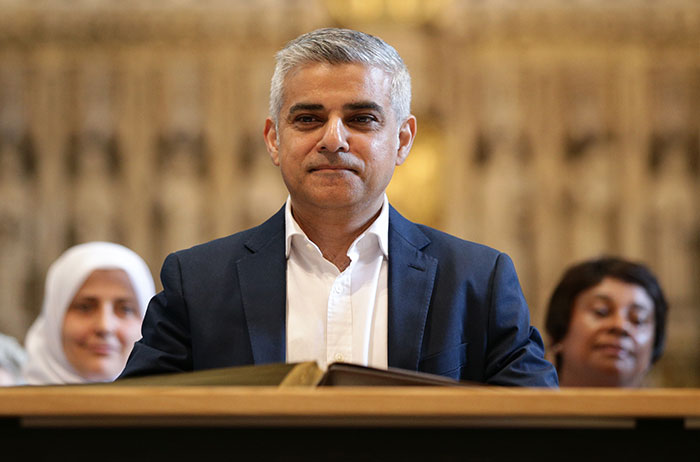 The Labour candidate led after the first round of voting for City Hall, with 44.2% of votes compared to 35% for the Conservative Zac Goldsmith and 5.8% for the Green Party candidate Siân Berry in third. Once all the second preference votes were redistributed to Khan and Goldsmith, Khan had over 1.3 million votes compared to nearly 995,000 for Goldsmith.
Labour also retained control of the London Assembly, with 12 seats. The Conservatives have eight, while there are two each for the Green Party and Ukip. The Liberal Democrats have one, with mayoral candidate Caroline Pidgeon returned.
After being formally signed into the role at Southwark Cathedral on Saturday, Khan said he was "determined to lead the most transparent, engaged and accessible administration".
He added: "I'm only here today because of the opportunities and helping hand that our city gave to me and my family.
"And my burning ambition for our city, that will guide my mayoralty, is to ensure that all Londoners get the opportunities that our city gave to me."
In other mayoral election results declared at the weekend, Labour also won the post in Bristol, with Marvin Rees defeating incumbent independent George Ferguson. The party's candidate in Liverpool, Joe Anderson, was also returned, having held the post for the last four years.
Overall, following Thursday's local elections, Labour retained control of a host of authorities across England, while the Liberal Democrats made the largest gains in seats.
Labour kept control 58 of councils, including retaining control of authorities including Bury, Norwich, Reading and Newcastle.
The Conservatives have lost 48 council seats according to latest figures to stand at 842, and the party has retained control of 38 councils including Swindon, down one compared to the last time these authorities were contested in 2012.
The Liberal Democrats have won 45 more wards to stand at 378, and have control of four councils, including gaining Watford. UKIP has won 55 council wards, up 25 compared to 2011.
In elections for police and crime commissioners in England and Wales announced this weekend, there were gains for both the Conservatives (up 4 to 20) and Labour (up 3 to 15). Plaid Cymru, which won two in Wales, was the only other party to win a PCC election. There are also three independent PCCs, down from 12 before the vote.