By Richard Johnstone | 25 February 2015
The Greater Manchester combined authority is to be given complete control over all health spending in the city region in a groundbreaking devolution deal to be announced later this week.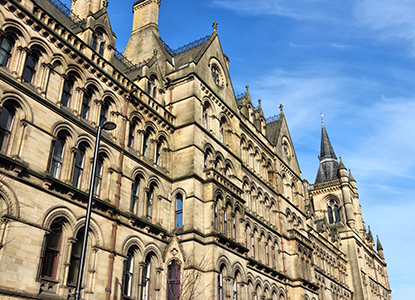 It has been reported today that Chancellor George Osborne will visit the city on Friday to announce that Manchester's combined authority – which agreed a wide-ranging devolution of transport, housing and planning in November – will take control of the £6bn NHS budget.
This will be an extension of the Community Budget programme already running in the city, which was intended to pool funds to improve the effectiveness of public spending across the city's 10 councils.
The groundbreaking localisation of health spending, which represents around a quarter of all public spending in the region, is intended to allow for more effective coordination between hospitals and social care.
It is expected that Osborne will set out more details of the plan on Friday, with the reform expected to be in place by April 2016.
In a joint statement, the 10 local authorities and 12 clinical commissioning groups of Manchester, as well as NHS partners including NHS England, confirmed discussions were underway on a 'groundbreaking agreement' for health and social care.
It stated that NHS England had invited Greater Manchester into reform talks after November's devolution deal, and it was hoped an agreement will be reached shortly. This would create a new joint decision-making approach to integrate care which recognises the link between physical, mental and social wellbeing.
Osborne said this reform was 'exactly what we want to see more of in our health care'.
He added: 'It's also about giving Greater Manchester more control over things run in Greater Manchester – which is what our vision of a Northern Powerhouse is all about. It's early days, but I think it's really exciting development. We'll be working hard now with Greater Manchester and NHS England on getting the details right so the arrangements work best for patients.'
Greater Manchester Combined Authority chair Lord Peter Smith stated: 'We are committed to working in partnership with our NHS colleagues throughout the city region to take this forward and I would like to thank those colleagues, and NHS England, for their hard work so far in enabling us to reach this point.
'By ensuring that decisions about health for Greater Manchester are taken in Greater Manchester, we can ensure we have a system specifically tailored to the needs of people in our area.'
NHS England chief Simon Stevens said the body was working on a groundbreaking offer to the local NHS in Greater Manchester and elected local authorities to back local leaders and communities who come together to improve the health and care of their residents and patients.
Responding to the proposals, CIPFA chief executive Rob Whiteman said that any moves to bring decision-making over health spending closer to local people would be welcome, but said all areas of the UK must benefit from any devolution dividend.
'If we are to tackle the health care challenges of the 21st century and effectively deliver integrated health and social care services we need a wide-ranging framework to align local public services so that they all pull in the same direction,' he added.
'The key to this will be making sure that this is done in a planned, thorough and joined up way and as part of a long term plan from Government for fair and sustainable public services.'
Whiteman said CIPFA would work to make sure any deal works for the people of Manchester and that the right governance, financial management and delivery systems are in place.
'We need to ensure that as public services are transformed, the public and government have confidence in the way resources are managed and that every pound of public money is spent where it is most needed and in the most effective way.'
Phillip Blond, the director of the ResPublica think-tank whose Devo Manc report called for devolution of the NHS budget last September, said integration would both save a large amount of money and transform lives.
He told BBC Radio 4's Today programme he expected an expanded health and wellbeing board would work with the city's clinical commissioning groups to co-commission healthcare.
'The thinking behind it is that hospitals are being overwhelmed by people with long-term conditions who haven't been dealt with properly,' he said.
'Greater Manchester over the last 10 years has seen an increase in unplanned hospital admissions of 35%, and there's a £1.1bn funding gap in Greater Manchester for that.
'Most of these admissions come from people with long-term conditions, and these numbers are set to rise, so it is a huge increase that has not been dealt with. What this [devolution agreement] means is the ability of the local council and hospitals together to commission services together to relieve long-term conditions.'
Andrew Carter, acting chief executive of Centre for Cities think-tank, told Public Finance the announcement was 'encouraging on two levels'.
'Firstly, because it reinforces the important link between the delivery of public services and economic growth, and how the ability to achieve improvements in areas such as healthcare at a local level can enable places to not only improve residents' quality of life, but also to make savings for the public purse, and to build more productive workforces.
'The announcement is also significant because it indicates significant confidence in Greater Manchester's leadership, and their capacity to make strategic decisions that are the best interests of the locality and the nation. This is a big step for Whitehall, and one that we hope will lead to further devolution of other policy areas, and to other places throughout the UK.'
The move to give further powers comes after the Independent Commission on Local Government Finance called for a 'decade of devolution' for local authorities.
Commission member and professor in the Department of Government at the London School of Economics Tony Travers said that once areas such as Manchester received extra powers, it would become more difficult to resist them applying to all places.
'If Greater Manchester keeps saying that it will have more power and resources – and as long as they're given them – I think others would take the risk,' he told PF.