By Richard Johnstone | 21 January 2015
Jeremy Hunt has warned that strike action planned by NHS trade unions next week could put lives at risk at a time of record demand across the health service.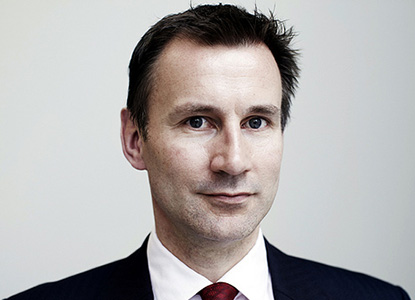 In a letter to NHS trade unions, ahead of talks aimed to ending a long-running pay dispute, the health secretary said NHS England had warned that the planned stoppages 'pose a real risk that patients with life-threatening conditions are harmed'.
Workers across the health service, including members of the Royal College of Midwives, the British Association of Occupational Therapists and Unison, are expected to take part in a 12-hour stoppage on January 29 followed by a full day strike on February 24.
Two four-hour stoppages took place in October and November in protest at Hunt's decision to not award all NHS employees the 1% pay increase recommended by the independent pay review body. Instead, only those not receiving increases through progression were given the rise this year, and a similar decision is planned for next year.

However, Hunt said that giving all staff the 1% increase in addition to pay progression would cost as much as 14,000 newly qualified nurses.
'At a time when the NHS is under unprecedented pressure, it would be totally wrong to consider any pay policy which would have the effect of forcing the local NHS to employ less staff, which would inevitably have a serious impact on patient care,' he added.
'The public will find it hard to understand why unions are taking this action when services are under pressure and only 13% of their members actually voted to strike.'
Talks between trade unions and the Department of Health were held yesterday, and it was agreed they would re-convene today for further negotiations.
Unison's head of health Christina McAnea said: 'Unions have agreed to have further talks over the next 24 hours and will meet again today with the secretary of state to see if there is a way out of this dispute and to ensure that patients' safety remains a priority.'