By Richard Johnstone | 29 January 2015
Public support for the NHS increased last year, with two-thirds of people saying they were very or quite satisfied with the way the service is run, despite demand reaching record levels.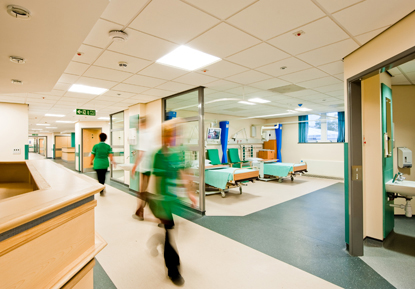 The latest British Social Attitudes, published by the King's Fund think-tank today, found satisfaction rose from 60% in 2013 to 65% in 2014. This is the second highest level ever recorded – behind only the 70% approval rating in 2010 – while the number of people saying they are dissatisfied, at 15%, is the lowest on record.
The polling, which is weighted to ensure it reflects the general population, found GP services remain the most popular part of the NHS, with a satisfaction rating of 71%. However, this is the lowest level of support for general practice since polling began in 1983.
Accident and emergency services experienced an increase in satisfaction to 58%, up five points despite waiting times reaching their highest level for a decade.
King's Fund chief economist John Appleby said that, with the NHS set to be a leading issue ahead of the general election, the survey provided a snapshot of how the public views health provision.
Among those polled, the analysis found that there was an 11 percentage point hike in satisfaction among Labour supporters, to 69%, and a 5 percentage point increase among Liberal Democrat supporters, to 68%. The level of backing remained the same among Conservative supporters, at 67%, while satisfaction among UKIP supporters was lower than for the three main parties, at 57%.
'Public satisfaction with the NHS is high and has risen significantly, despite a year in which the service hit the headlines for financial pressures and difficulties with A&E waiting times,' Appleby said.
'But as well as an actual increase in satisfaction, this may in part reflect a desire among the public to show support for the NHS as an institution.'
NHS Confederation chief executive Rob Webster said satisfaction with the health service remained high.
'We know these satisfaction ratings are a testament to our members and their committed staff who provide high-quality services and leadership in tough times. Maintaining and improving satisfaction will be important as we embark on changes to services, whichever party comes to power, and we must continue to support NHS staff through these times.'
The poll also found that satisfaction with social care services is far lower than with the NHS, with just 31% of respondents either very or quite satisfied with social care and 30% dissatisfied.