By Richard Johnstone | 28 January 2015
Further cuts to council funding in the next parliament could threaten the viability of statutory services such as adult social care and child protection in the most deprived areas, MPs have warned.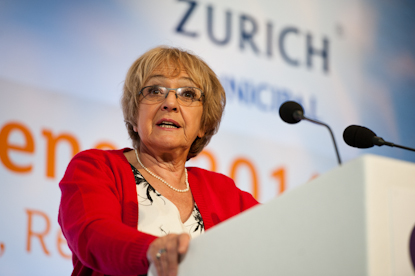 The Public Accounts Committee said councils were dealing with average funding reductions of 37% between 2010/11 and 2015/16. However, these cuts have not hit all councils equally, PAC chair Margaret Hodge said, with the impact ranging from a 5% fall to a loss of 40%.
'Councils with the greatest spending needs – the most deprived authorities – have been receiving the largest reductions,' she said.
'Further cuts could not just undermine the entire viability of most optional services, but might threaten some statutory services in these areas.'
The report also warned that a failure by the Department for Communities and Local Government to understand that the impact of sustained funding reductions presented a risk to value for money.
The committee reiterated the National Audit Office's criticism that DCLG does not have a good enough understanding of the impact of funding cuts, or the risk of individual authorities becoming financially unsustainable.
The department's 'hands off' approach also meant value for public money could be undermined by reductions in spending that essentially move costs from councils to other parts of the public sector. For example, the committee highlighted that tightening eligibility criteria for social care could be leading to bed-blocking in NHS hospitals. This is thought to be a contributing factor to the current pressures on the health service.
DCLG 'looks only at data on spending and has little information on service levels, service quality, and financial sustainability', Hodge said. 'Without at least an idea of the amount of funding required to maintain statutory services to a minimum standard, it is hard to see how the department could ensure that local authorities are able to fulfil their statutory duties.'
Further cuts in the next parliament would leave DCLG unable to provide assurances that all authorities could maintain the full range of their statutory services, which also include waste collection and concessionary travel.
'The department cannot at present satisfy us that it understands whether it is feasible and practical for local authorities to deliver the service transformation necessary to maintain financial sustainability. Nor does it understand what the effects on service users would be,' Hodge added.
In a bid to help councils to implement reforms to deal with lower funding, MPs called on the Treasury to implement multi-year finance settlements for local authorities to allow for improved financial planning.
Hodge indicated that uncertainty over year-to-year funding, also the result of the part-localisation of business rates, was the reason many authorities had increased their reserves, a move criticised by local government secretary Eric Pickles.
'This uncertainty over future income has meant that local authorities have built up significant increases in their financial reserves, up to a third of annual net revenue expenditure. This takes even more money away from services at a time of spending reductions,' she added.
Responding to the report, local government minister Kris Hopkins insisted the government had delivered a fair settlement to every part of the country, and councils had been able to maintain public satisfaction with services.
'Every bit of the public sector needs to do its bit to pay off deficit left by the last administration, including local government which accounts for a quarter of all public spending,' he said.
'But so far over this Parliament council spending, excluding education, has actually increased in cash terms. Every council should therefore be able to deliver sensible savings while protecting frontline services for local taxpayers and keeping council tax down. This includes tapping into the £21bn of reserves which town halls have been quietly holding back year-on-year.'
CIPFA chief executive Rob Whiteman said: 'This report highlights the lack of understanding the Department for Communities and Local Government has on the impact of the cuts and their distribution amongst councils in the UK. It highlights a dangerously short-term approach that threatens the sustainability of public services and their ability to meet the needs of our communities.

'CIPFA hope the government pay heed to the PAC's findings and provide assurances to end short-term initiatives and focus on the sustainability of local authority finances in long-term public interest.'

A spokesman for the Local Government Association said local services are beginning to 'buckle under the strain' of a 40% cut in funding and would not be able to withstand more of the same in the next parliament.
'As the committee has recognised, it is also essential that government gives councils more long-term certainty over how local services like care, our parks, roads and libraries will be paid for, not just for 12 months at a time but over several years.'