By Andrew Pring | 3 September 2014
Home Secretary Theresa May has said further integration of the operations of the three emergency services will be needed in the next parliament in response to budget cuts.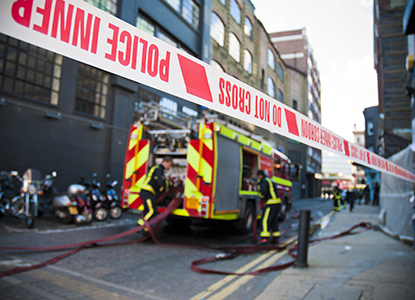 In a speech to the Reform think-tank today, May said that the need for further savings in the next parliament would require new approaches to policing and 'transformative solutions' across police, fire and ambulance services.
Though no details were given, May's speech built upon remarks made by former policing minister Damian Green last November, who said 'it doesn't make sense' for emergency services to have different premises and systems across areas such as IT and procurement.
'The emergency services need to collaborate to make it easier to meet public expectations,' she stated.
Earlier this year, the government created a 'Blue light' collaboration working group to push forward these plans.
In her speech today, May said that organisational changes made by police forces over the past four years were 'already bearing fruit' in delivering more for less, but there was still a long way to go.
The next 'even tougher challenge is how we can reduce demand for public services through smarter policy', she added
Outlining the reforms in her time at the Home Office, May said: 'What's striking is that we have been able to make many of these changes not despite spending cuts but because of them.
'This is important, because the need to go on reforming will not end with this parliament. With a still-large deficit and a record stock of debt, there will need to be further spending cuts, as even Labour acknowledge.'
Schemes like the Police Innovation Fund should be used to promote capital investment that produces efficiency savings, she said.
'And while we should continue to bear down on bureaucracy we should come up with more transformative solutions – like drastically reducing the unnecessary use of stop and search, reforming the wider criminal justice system and improving how we care for people with mental health problems – to save police time.'