By Richard Johnstone | 18 September 2014
Deputy Prime Minister Nick Clegg has indicated he would back a new constitutional settlement between central and local government that would lead to greater fiscal decentralisation across England.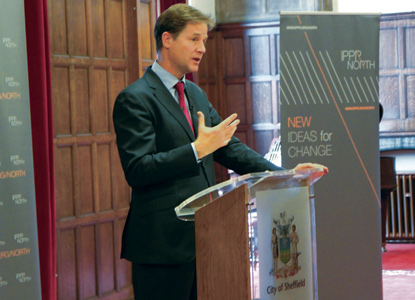 Speaking to Public Finance, Clegg said the coalition government had taken steps to free local areas from what he called the 'dank vaults' of the Treasury, and it was now time to go further by developing cross-party devolution plans.
Coalition achievements include localising 50% of business rate growth to town halls and introducing Tax Increment Finance provisions, Clegg told PF at the launch of think-tank IPPR North's Decentralisation decade report in Sheffield. Other freedoms had been given to councils through reforms to the Housing Revenue Account subsidy system, he said.
'All of that is happening at a time of unprecedented stringency and restraint in the public finances, which of course is a hugely difficult job for local authorities up and down the country. But it is a start,' he said.
Many of these changes had been introduced despite opposition from the Treasury, he revealed. 'The Treasury doesn't like it. I mean no offence to the people of the Treasury, but it's the DNA of the Treasury to control everything that moves across the country as far as finance is concerned. They have a legitimate concern about the stability of finances – if a local area messes up does the central government have to bail it out, those kinds of issues.'
However, he insisted that further changes to devolve power to local government could be implemented after the next general election.
'It is clear to me now that the cat's out of the bag. We've broken the spell that says that everything needs to be run financially by the Treasury.'
The proposal in the report for an independent review of the funding relationship between central and local government after next May's election was something he was 'attracted' to.
IPPR North recommended this should lead to a 10-year plan for devolution of powers to English local government. An independent body for local fiscal management should also be created with responsibility for overseeing central- local relationships, as well as reviewing the arrangements for equalisation and redistribution purposes.
Clegg told PF: 'I think the next step to have an independent commission – to build a consensus around what the flightpath is over the next two parliaments towards much greater fiscal decentralisation – is crucial.'
The deputy prime minister said he was also interested in recommendations that included localisation of property taxes, which would incorporate full control of business rates revenue.
However, such reforms would need to be accompanied by a mechanism to equalise funding between areas. 'We do live in a country which is profoundly unequal in all sorts of respects [so] of course you need a continued mechanism by which the better-off parts of the country help out the less-better-off parts.'
He insisted such wide-ranging reforms 'can be done', adding: 'If it can be done through the suggestion of the IPPR report, that would be a fantastic breakthrough after the next general election.'
IPPR North director Ed Cox said decentralisation of fiscal powers was urgently needed in England to help cities like Sheffield to grow. Although he agreed with Clegg that the coalition had taken 'small steps forward', they had been too piecemeal and more powers were needed over economic development and public services.
He told PF that decentralisation in England was 'an issue whose moment has finally come'. He added: 'It is absolutely critical that political and administrative decentralisation is backed by a long-term plan for fiscal devolution.
'I think all of the political parties need to set out in greater detail the steps that they would take for English decentralisation.
'Each of them has said in principle they are committed to devolution in England, but none has set out the kind of programme that we are recommending in our report, and they need to do that.'
Responding to Clegg's comments, a CIPFA spokesman said it was encouraging he had recognised many of the issues that both local government and the regions are facing and that there was a need for serious long-term change.
'CIPFA has long recognised this need which is why, with the LGA, we set up the independent commission on local government finance. It is good that Westminster is starting to heed our call for reform in local government finance,' he added.