By Mike Thatcher | 3 July 2014
The chair of the Public Accounts Committee has called for an examination into the future of public audit following the abolition of the Audit Commission.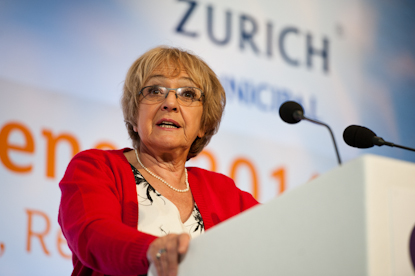 Speaking to the CIPFA annual conference, Margaret Hodge said that the decision to abolish the commission had been a mistake, and that the plans to replace it were inadequate. The famed 'armchair auditors' had never appeared and a vital function was no longer being performed.

'I honestly believe that the time has come when we need a commission looking at whether public audit remains fit for purpose right across the public sector or whether or not we should think about the arrangements we have to protect the taxpayers' interest,' she told delegates.
Hodge said that she agreed with Lord Heseltine, who founded the Audit Commission in the 1980s, that the rationale for a local spending watchdog remained valid.
'You want somebody looking at economy, efficiency and effectiveness outside local authorities and you want capabilities that enable you to compare performance. None of the arrangements that have been put in place post-abolition will fill that essential need.'
The PAC chair also criticised the abandonment of the Sharman principle – that local authorities should not appoint their own auditors.
'I think that is bad for confidence in public audit. It is a hugely important principle and [abandoning it] will tarnish the relationship between auditors and local authorities.'
She did suggest that the Audit Commission had made mistakes – it grew too big and lost its focus in the latter years. 'But I still think we need a capability like that – that enables us to pull out poor performance, celebrate good performance and compare across the piece.'
On central government, Hodge welcomed the appointment of Julian Kelly as the first director general of public spending and finance. However, she said that his status within the Treasury was 'not as high as I would want'.
Responding to the comments, local government minister Brandon Lewis said: 'The Audit Commission was abolished because it was wasteful, ineffective and undemocratic. What should have been a voice for taxpayers became a creature of the central state.
'Localising public audit not only saves £1.2bn over a decade but is a robust, accountable and efficient way of holding councils to account. More importantly it empowers local people to uphold democracy and ensure their council is spending their money as they see fit.'