By Richard Johnstone | 2 July 2014
CIPFA president Mike Owen has urged political parties to avoid tempting voters with short-term policies at next May's general election, but instead plan and budget for the medium to long term.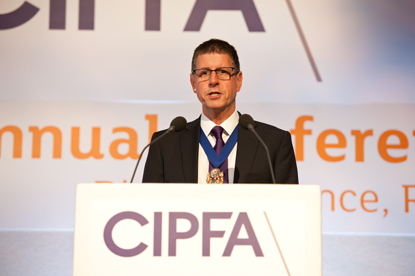 Speaking today at the final CIPFA annual conference before the election, Owen said the continuing need for fiscal austerity meant that the cost, efficiency and sustainability of public services would be central to the thinking of all parties.
He told delegates that this year's conference would focus on risk, resilience and reform and how addressing these are could help find a solution to the 'cliff edge' faced by many services.
'Whichever way we look at the future of public services we know that they will have to undergo a fundamental redesign to meet the needs of society in 10, 20 or even 50 years' time,' he said.
'The paradigm of the post-war welfare state is no longer affordable. Its structure, delivery mechanisms, funding, the relationship between citizen and state, are all in need of radical reform.'
Therefore, CIPFA would be asking all the political parties to consider the questions of sustainability, efficiency, flexibility and accountability ahead of next year's election.
'To achieve fiscal sustainability we need to see a clear redefinition of the relationship between the individual and the state, even if that does mean reassessing the affordability of a raft of entitlements our own generation has clung on to,' he told the conference.
'We need governments to budget for the medium to long term, to invest strategically in growth and to invest in early interventions for the benefit of future generations rather than tempting the voters of today with short-term policies that are electorally appealing now but ultimately put back even further the point of fiscal balance.'
In addition, there was also a need to need to reform how government and public services are structured to deliver genuinely integrated services that meet the needs of local communities, the CIPFA president said.
The next administration also needed to address what he called 'the yawning governance gap' that is being created by some public service reforms and new structures.
'Be it in academies or clinical commissioning groups, time and time again, we have seen failure in financial management and governance when these newly reformed structures should be in the business of increasing public confidence not eroding it,' he said.
Owen highlighted that the finance function was at the cutting edge of the reform and efficiency agenda, with CIPFA's annual survey of chief financial officers, carried out by YouGov, finding that 58% of respondents planned to merge similar or complementary services to balance their budgets in 2014/15.
In addition, 84% of CFOs planned to reduce spending on back-office functions, while 70% planned to re-structure management.