By Richard Johnstone | 6 June 2014
Deputy Prime Minister Nick Clegg has proposed public spending rules for the next parliament that include a commitment to cutting the level of the national debt as a proportion of economic output in years of growth.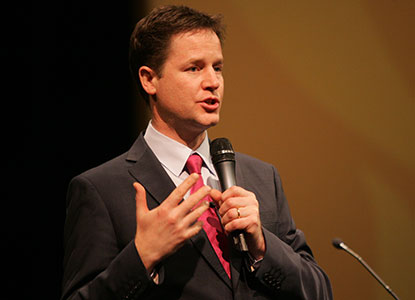 However, in a speech today setting out the Liberal Democrats' fiscal strategy ahead of next year's election, Clegg said the party would not back 'austerity forever' and raised the possibility of borrowing to invest in capital projects.
Under the plans, which could form part of coalition negotiations after the vote next May, Clegg said the party would back a new debt rule to commit the government to reduce the national debt as a percentage of gross domestic product year-on-year in times of growth.
Once the government meets its current target to balance spending in 2018/19, this would mean debt would reach what he called sustainable levels by the middle of the 2020s.
In addition, there should be a balanced budget rule that commits the government to balancing current spending over the course of an economic cycle.
However, Clegg said capital spending should not be included in this calculation, which could mean borrowing to fund economically important infrastructure such as transport, housing, and communications.
The LibDems did not believe in an ever-shrinking state, he added. 'We are not so ideological about making cuts that we'll deny people the things they need.
'We're not so dogmatic about borrowing that we'll jeopardise Britain's economic health. Responsibility – yes, austerity forever – no.'
The 'balanced budget' rule mirrors former chancellor Gordon Brown's pledge to not borrow for everyday spending over an economic cycle, his so-called golden rule.
However, Clegg said Brown 'used to slap the words "capital spending" on anything and everything just so he could get away with borrowing to pay for it'.
He added: 'That can never be allowed to happen again. Sound investment yes, reckless borrowing, no.'
In his first major speech following the LibDems' disappointing local and European election results, Clegg also insisted that coalition government had provided Britain with stable government in 'extraordinarily insecure' times.
'As a result millions of people kept their jobs; millions of businesses stayed afloat; the country survived and is back on track. And that is because of us.
'There are people out there who believe that the Liberal Democrats are only interested in power for power's sake. Our critics have spent four years claiming we've lost our soul – but it's simply not true.'