By Richard Johnstone | 1 May 2014
A panel of experts convened to examine service integration is looking for examples of 'can-do' areas that are breaking down barriers, one of its leaders has said.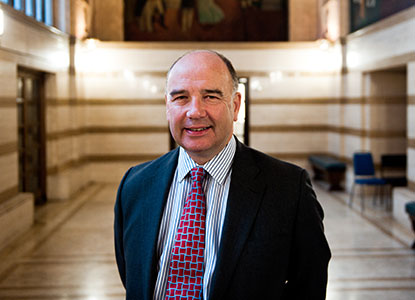 Speaking to Public Finance as the Service Transformation Challenge Panel issued its formal call for evidence, co-chair Derek Myers said it wanted to challenge both local government and Whitehall to address obstacles to service transformation.
Myers, the former chief of both the London boroughs Hammersmith & Fulham and Kensington & Chelsea, will lead the panel along with Newcastle City Council chief executive Pat Ritchie. It was established by Local Government Secretary Eric Pickles and Chief Secretary to the Treasury Danny Alexander last month to advise ministers on what is required both locally and nationally to increase the pace and scale of service integration and transformation. This will examine the lessons from schemes such as Community Budgets and the Troubled Families programmes.
Speaking to PF, Myers said it was a professional duty for all public service managers to make the best of available resources and these programmes, as well as technological changes, made it easier to do so in local areas.
'What we're looking for is areas that have seized those opportunities and created the sort of working environment where there's less territorial protectiveness, where they're thinking about how to join things up for the benefit of their local residents, where they're committed to making the best use for reduced resources, and where there's a sense of "can-do",' he said.
'We know there are all sorts of reasons why people find working across organisational boundaries complicated, but we're absolutely satisfied there are good stories out there. We want to make sure those good stories are tested so we can separate the assertion from the evidence.'
The panel would challenge both public service providers such as councils, and central government, to find where changes were being hindered, and what further reforms were needed to focus services on local needs. Increased local coordination can improve services, reduce demand and reduce demand and avoid duplication, he added.
'Our challenge to the sector is, if things are changing in one place, you'll learn from that where it is appropriate and replicate that in a way that enables us all to move further and faster.
'The second is the challenge back to government that says if only you'd stop this rule, or you'd make this funding stream join up, then actually it would be a lot easier to get on with these beneficial changes. That is essentially what we're trying to do.'
It was likely the panel would come up with recommendations common to a number of service reform initiatives, as well as those specific to, for example, the Better Care Fund that requires joint working between local government and the NHS.
'There will be some common elements wherever people are trying new approaches to problems and we will be able to draw certain themes out of that,' he said.
'There will be other things that are very particular – in the detail of health and social care integration there will be particular issue around information sharing, there will be particular issues around how the NHS tariff works. I would be very surprised if we didn't get good, well thought through analysis that says this was acting as a disincentive in some circumstances to the sort of change that people want to make.'
He expected the government would be receptive to introducing further reforms as a result of the panel's recommendations, which are expected in the autumn.
'No-one's going to give us a blank cheque, because Whitehall doesn't know what we're going to say yet, but nevertheless we're absolutely satisfied that there's a great willingness to learn from what the best are doing already, to help those of good will to go further and faster, and to be thoughtful in what government can do in order to aid that.
'I don't think it is willfulness of government that won't make these changes, it is simply that no one has focused on this particular issue before and given policymakers the chance to think about whether they could change. This is often stuff that we just need to get into the civil service machine and get it focused on.'
The panel's call for evidence runs until July 10, and is broken into six themes. These are: co production and service re-design; leadership; organisational culture and workforce; new delivery models; financial accountability and flexibility; and information sharing.
The panel was announced as part of series of statements last month, which also included a £410m fund for service integration.