By Richard Johnstone | 23 May 2014
The number of major Whitehall projects deemed to be at risk of failure by the government's own spending monitors has increased over the last year, according to figures published today.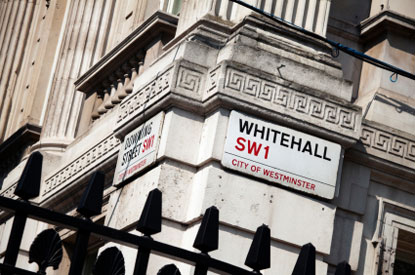 In its 2013/14 annual report the Major Projects Authority, which supervises the implementation of major policies or schemes across government, stated that 41 developments were in its top two risk categories at September 2013, up from 31 the year before.
According to the update, the biggest number of schemes at risk is in the Department of Health, where 11 projects are rated either red – meaning delivery appears 'unachievable' at the time of the assessment – or amber-red, where success is in doubt.
These include the government's plans to reform the health and social care system, such as the introduction of the Better Care Fund, which is rated amber-red, and the plan to introduce a new e-referrals system across the NHS, which is also amber-red.
Publishing the update, Cabinet Office minister Francis Maude insisted the use of the expertise in the MPA, including a new training scheme for those in charge of projects, had helped save £1. 2bn in 2012/13.
'Before the last general election there was no central assurance of projects; a lack of the right skills and problems were not systematically highlighted before they spiralled out of control,' he said. 'We know that transparency drives up standards and helps save hard-working taxpayers' money.'
The number of schemes with a red rating has fallen from eight to four over the year, the report revealed, but the number of amber-red warnings has risen from 23 to 37. Two NHS IT schemes have been given a red warning, along with the Ministry of Defence's project to build two new aircraft carriers and a Home Office programme to improve the computing systems used by the Serious and Organised Crime Agency.
However, the report revealed there had been improvements in more than half of the projects where concerns were raised last year.
Of the 31 projects judged to be either red or amber-red in its 2012/13 analysis, only 13 retain one of these ratings.
Projects that improved in the last year include the introduction of an annual cap on household benefits by the Department for Work and Pensions and the process for three rail franchise awards by the Department for Transport.

Following a 'reset' of the DWP's controversial Universal Credit programme, this has not been given a colour rating. 
'We have undertaken significant work to develop a 'reset plan' to place the roll-out of Universal Credit on a more secure footing, and the 'reset' Delivery Confidence Assessment reflects this new status of the project,' the report stated.