By Richard Johnstone | 25 February 2014
Ongoing reforms to financial management in government are intended to improve management accounting and place finance professionals at the heart of Whitehall decision-making, senior figures have said.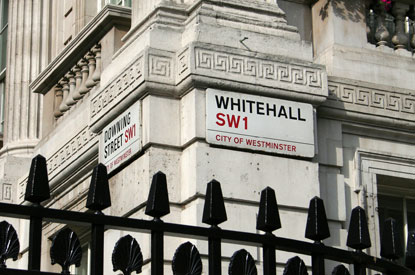 Speaking at an Institute for Government today, Richard Douglas, the head of the Government Finance Profession, said the profession had 'stepped up to the plate' to deliver the government's deficit-reduction plan and maintain services.
However, there was now a need for reforms to implement the recommendations of the financial management review he undertook with second Permanent Secretary to the Treasury Sharon White.
'It's one thing to deliver within spending constraints for four years,' he said. '[But] there's a lot of things we have done around suppression of input costs – whether it's getting cheaper deals for goods or suppressing pay levels – that are not sustainable in the longer term at the same level.
'If we recognise – I think as we all do – that this period of financial restraint is going to carry on for a number of years, we have to step up to a different level.'
In particular, Douglas said changes needed to be made to Whitehall spending control frameworks to ensure they assess value for money as well as the amount being spent.
'The key challenge as a profession is making the same investment in improving our management accounting capability – our approach to how you make decisions – that we've invested in financial accounting for around 10 to 15 years.'
This required consistent systems and standards across government to underpin the analysis of spending, Douglas said.
However, the current control frameworks for departmental spending – operated by the Treasury and the Cabinet Office – are good at ensuring that departments stick to spending totals, but are less adept at assessing value, he said.
'We have a control framework at the moment and a set of incentives that is fantastic at delivering spending control, [but] it is rubbish at delivering value,' Douglas said.
'You have got to look at that again and say, potentially, what risks are you willing to take on the control side to improve the value side. I think that's going to be an interesting debate – if we just hang on to the control spending, then you won't make a fundamental cultural shift, but it involves a degree of risk.'
The financial management reforms will move towards 'earned autonomy' where departments that manage their money will be given greater freedoms to take spending decisions, he revealed.
Douglas also said the creation of a new post of director general for spending and finance in the Treasury – combining his post with the Treasury's director general for public spending – would make a 'phenomenal difference' to the development of the profession.
'We needed to bring those two elements of the chief financial officer type role together in one individual, and you need to bring in an individual that has the appropriate levers and the appropriate influence, so that means it has to be linked to Treasury spending.'
Also speaking at the event, White said the reforms would be successful if there were more finance professionals 'sitting at the right hand of the secretary of state' as spending decisions were being made.
'That happens sometimes – where finance sits centrally in strategic budget discussions – but in my own view that still feels very much a minority situation.
'That's part of the progression of the finance experts, which has been focused around external reporting and parliamentary accountability. That needs to change, and I hope that with the support and the link in to the Treasury we can make a big push on that.'

White agreed with Douglas that the Treasury did a good job in working with departments to ensure spending totals were met, but had been less good at focusing on the value for money of individual areas of spending.
She said there was a particular need to improve the analysis in large areas of spending in unprotected departments where greater efficiency will be crucial, but which were currently 'evidence free zones'.
'It's a very difficult thing because the data and the evidence can be very patchy, and it's also the case that when there's a political negotiation, evidence and data are only part of the equation,' she said.
'But when I think about the evolution of my spending teams over the next five years or so, I certainly hope that by Spending Review 2020 we have got much more systematic data, evidence and management information which informs, in a much more structured and systematic way, much more evaluation.'