By Vivienne Russell | 26 November 2013

Scotland's public finances are robust enough to support independence and will only get stronger should the country leave the Union, the Scottish Government said today as it set out its vision for independence.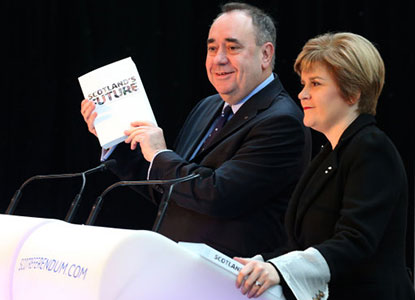 Speaking at the launch of the 670-page white paper, Scotland's future – your guide to an independent Scotland, First Minister Alex Salmond said: 'This is the most comprehensive blueprint for an independent country ever published, not just for Scotland but for any prospective independent nation.'
The paper devotes an entire section to Scotland's national finances, including a projection of the country's opening financial position at the point of independence in 2016/17.
This suggests that Scotland would have total expenditure of £63.7bn and a deficit of between 1.6% and 2.4% of gross domestic product if Scotland takes on a historical share of debt interest payments. If debt interest payments were allocated on a population basis, the deficit would rise to 2.5%-3.2% of GDP.
To ensure public finances were stable and sustainable, the white paper said Scotland would put in place an 'effective fiscal framework' including the creation of an independent Scottish Fiscal Commission, fiscal rules and an Energy Fund to manage oil revenues.
Spending will be reduced by cutting defence and security expenditure to £2.5bn a year, ending the married couples tax allowance, running a more streamlined network of overseas representation and no longer funding the Westminster Parliament.
'We expect these changes to deliver savings or increase in revenue totalling around £600m in a full year,' the paper states.
It also sets out details of a range of policies that would be introduced if the ruling-Scottish National Party were elected to be the government of an independent Scotland. These include an overhaul of childcare, helping more women into work and providing up to 35,000 new jobs, a 'triple-locked' state pension, and a minimum wage pegged to cost-of-living increases.
Several of the UK government's welfare reforms, specifically the introduction of Universal Credit and reductions to Housing Benefit, known as the 'bedroom tax', would be overturned.
Salmond said: 'This guide contains polices which offer nothing less than a revolution in employment and social policy for Scotland, with a transformational change in childcare at the heart of those plans.
'Our proposals will make it far easier for parents to balance work and family life and will allow many more people, especially women, to move into the workforce, fostering economic growth and helping to boost revenues – which will in itself help pay for the policy.'
But Alistair Darling, chair of the pro-Union Better Together campaign, said the white paper was little more than a wish list and had avoided the big questions around independence.
'What currency would we use? Who will set our mortgage rates? How much would taxes have to go up? How will we pay pensions and benefits in future?' he said.
'It is a fantasy to say we can leave the UK but still keep all the benefits of UK membership. The white paper is a work of fiction. It is thick with false promises and meaningless assertions.'