By Richard Johnstone in Brighton | 23 September 2013
Shadow chancellor Ed Balls has asked the Office for Budget Responsibility to examine Labour's spending plans ahead of the next general election to assess their affordability.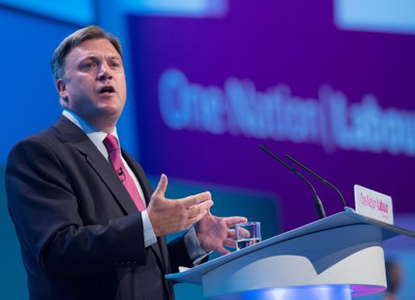 Speaking at the Labour party conference today, Balls said that an independent review of the party's proposals would help restore trust in politics. However, it is not clear if the watchdog currently has the powers to conduct the exercise.
Balls reiterated that the revenue spending totals set out in the government's June Spending Review would form the 'starting point' for a future Labour government. 
'There will be no more borrowing for day-to-day spending, and we will set out tough fiscal rules – to balance the current budget and get the national debt on a downward path.'
However, he added that 'it's even more important that all our policies and commitments are properly costed and funded', given the 'tough' economic situation. 
'So we will go one step further and ask the independent Office for Budget Responsibility – the watchdog set up by this government – to independently audit the costings of every individual spending and tax measure in Labour's manifesto at the next election,' Balls said.
'This is the first time a shadow chancellor – the first time any political party in Britain – has ever said it wants this kind of independent audit.'
Balls also told delegates the party would not be able to reverse all of the coalition's spending cuts, but would bring down the deficit in a 'fairer' way by undertaking a 'zero-based' review of all government spending.
'We will have to govern with less money around. The next Labour government will have to make cuts too. Because while jobs and growth are vital to getting the deficit down – something this government has never understood – they cannot magic the whole deficit away at a stroke.'
As currently constituted, it is thought unlikely the OBR would be able to undertake a review of individual party's policies ahead of the next election. However, in a lecture in May, OBR chair Robert Chote said it would be 'interesting to see if there is any demand for the OBR to look at alternative policies'.
Responding to Balls' speech, Sajid Javid, economic secretary to the Treasury, said the shadow chancellor knew such an examination 'is not allowed under the Budget Responsibility Act and the OBR's charter'.
He added: 'This is just a stunt to try and distract attention from the fact that Labour have been found out for making unfunded commitments that would just mean more borrowing and more debt.'
In his speech, Balls also announced that Labour would expand the provision of free child care places for three and four years-olds from 15 hours to 25 hours a week. This followed an announcement from shadow education secretary Stephen Twigg yesterday that Labour would also guarantee childcare for all primary school children from 8am to 6pm. Such an increase would allow parents for the first time to be able to accept part-time work without having to worry about the cost of child care, Balls said. 
'Child care is a vital part of our economic infrastructure that, alongside family support and flexible working, should give parents the choice to stay at home with their children when they are very small and to balance work and family as they grow older. So to make work pay for families, we must act.'