By Mark Smulian | 24 July 2013
Local government finance settlements are 'deeply unfair' to rural communities, according to MPs.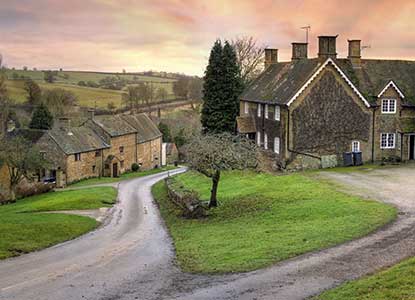 In a wide-ranging attack on ways in which England's countryside residents are disadvantaged by poorly designed government policies, the environment, food and rural affairs committee also voiced concern over school funding, health and housing.
Its report, Rural communities, said government policy 'too often fails to take account of the challenges to providing services for people living in rural communities'.
Committee chair Anne McIntosh said: 'The government needs to recognise that the current system of calculating the local government finance settlement is deeply unfair to rural areas in comparison with their urban counterparts. This is unacceptable.
'Rural communities pay more in council tax, receive less government grant and have access to fewer public services than people in large towns and cities.'
Predominantly rural local authorities received £147.81 in government formula grant per head, 52% less than their urban counterparts.
'Sparsity of population makes it more expensive to provide services in rural areas than urban areas', the report said.
'Yet, despite this, urban areas receive 50% more funding per head than rural areas.
'The government needs to recognise that the current system of calculating the local government finance settlement is unfair to rural areas and that the disparity must be reduced.'

The committee was concerned to hear from natural resources minister Richard Benyon that the impact of the settlement on rural areas was not discussed at ministerial level.
And it accused the Department for Communities and Local Government of having 'failed to use the standard Defra rural/ urban definitions that are the cornerstone of rural proofing methodology'.
This meant the resulting settlement was 'not helpful to rural areas'.
The report was also critical of school funding, where it said the extra cost of providing services in rural areas was obvious but schools received 'less than half the per head funding that urban authorities get'.
It said the new system was intended to give pupils similar funding levels wherever they went to school.
'We received evidence suggesting the government had failed to foresee the implications of the reforms on smaller rural schools,' the committee said.
'Rural schools tend to have smaller classes which means running costs are higher per pupil.'
The MPs also said rural healthcare 'should be a top priority for Defra ministers, given the unequal funding allocation [against urban areas] and the increasing age of rural populations'.
Local authorities should be allowed to borrow to build and renovate homes, the report said, though it cast doubt on the effectiveness of the affordable homes programme.
This sought to deliver 8,000 homes by 2015 in the countryside, but 'the problem of lack of affordable housing in some rural areas is so acute that we do not believe [it] will be sufficient in scope to make a meaningful impact'.