By Richard Johnstone | 16 July 2013
Eleven NHS hospital trusts are to be placed in 'special measures' after an examination of higher-than-expected mortality rates suggested thousands of patients could have died unnecessarily due to poor care, Health Secretary Jeremy Hunt has said.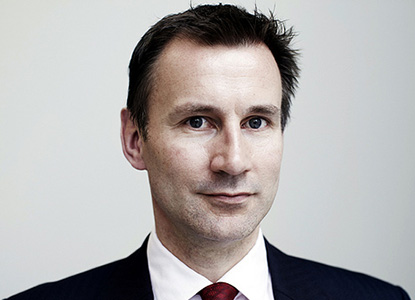 NHS England medical director Sir Bruce Keogh was ordered to review 14 trusts after failings at the Mid Staffordshire hospital trust were identified by a public inquiry. Publishing Keogh's findings today, Hunt said none were providing consistently high-quality care.
Keogh identified patterns at many trusts, including failure to act on information that that suggested cause for concern, a lack of openness and an unwillingness to learn from mistakes. There was also 'ineffectual governance and assurance processes'.
As a result, a majority of the trusts will be placed in special measures, with a team of external experts sent to work with existing management in implementing changes following the report.
They are: Tameside; North Cumbria; Burton; Northern Lincolnshire; United Lincolnshire; Sherwood Forest; East Lancashire; Basildon and Thurrock; George Eliot near Nuneaton; Medway; and Buckinghamshire.
In half of those trusts, the Care Quality Commission failed to spot any cause for concern, rating them as compliant with basic standards, Hunt said.
He added that interventions were now necessary because problems had become deeply entrenched.
As well as providing support to implement recommendations, regulator Monitor will assess the quality of leadership at each hospital, and could remove any senior managers unable to make the improvements required. Each hospital will also be partnered with high-performing NHS organisations to provide mentorship and guidance in improving the quality and safety of care, Hunt added.
Three trusts reviewed – Blackpool Teaching Hospitals, Colchester Hospital and the Dudley Group NHS Foundation Trust – have not been placed in special measures as Monitor has confidence that the existing management can implement reforms.
But all trusts have been placed on notice that they will be re-inspected within 12 months by the new chief inspector of hospitals, Professor Sir Mike Richards.
'This is a proportionate response in line with the findings of the review,' said Hunt.
'Inevitably there will be widespread public concern not just about these hospitals but about any NHS hospital – and some have chosen to criticise me for pointing out where there are failures in care.
'But the best way to restore trust in our NHS is transparency and honesty about problems, followed by decisiveness in sorting them out.'
Keogh said higher mortality rates do not always point to deaths that could have been avoided, but should act as a 'smoke alarm' indicator that there could be issues with the quality of care.
He added: 'Not one of these trusts has been given a clean bill of health by my review teams. These reviews have been highly rigorous and uncovered previously undisclosed problems. I felt it was crucial to provide a clear diagnosis, to write the prescription, and, most importantly, to identify what help these organisations might need to support their recovery or accelerate improvement.
'Mediocrity is simply not good enough and, based on the findings from this review I have set out an achievable ambition which will help these hospitals improve dramatically over the next two years.'
Responding to the report, the NHS Confederation said there must be 'no place in the NHS for senior leaders to bury their heads in the sand and avoid difficult lessons'.
Chief operating officer Matt Tee said the report must act as a 'catalyst for change'.
He added: 'It is crucial that we seize the opportunity offered by the Keogh Review to get under the skin of the NHS and shine light on its shortcomings but also recognises its successes.
'We know each of the NHS trusts has undergone a rigorous examination of its processes and practices as part of this review and has identified an action plan for improvement. It is clear that clinicians and managers at these trusts will now need to be fully focused on delivering the agreed action plans.'