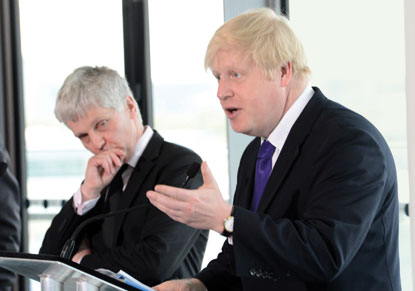 Boris Johnson greeted the London Finance Commission's recommendations with great enthusiasm and his characteristically quirky rhetorical flourish. 'For too long, London has been an economic giant, but a fiscal infant,' said the city mayor. 'Babes unborn will lisp the name of the Travers commission!'
Johnson's ad-lib reflected the mood of excitement and optimism with which the LFC's report, Raising the capital, was welcomed at the launch event at City Hall in mid-May. Commissioned by Johnson last year and chaired by academic Tony Travers, the commission spent nine months examining how local government finances in the capital could be reformed.
The 17-member commission included former Labour local government minister Nick Raysnford, CIPFA chief executive Steve Freer and Jules Pipe, the directly elected mayor of Hackney and chair of London Councils. Representatives from outside the capital were also included, namely Stephen Hughes, chief executive of Birmingham City Council, and Mike Emmerich of New Economy Manchester.
The LFC's 80-page report recommended devolution of five property taxes to London government: council tax, stamp duty land tax, business rates, the new annual tax on enveloped dwellings and capital gains property development tax. The commission has also endorsed the idea of City Hall being allowed to levy new minor taxes, such as tourism or environment duties. Borrowing powers should also be boosted, while remaining within the Prudential Code. It was also stressed that this was not just a report for London, but could be a blueprint for city government across England.
Johnson could not have been more committed to its conclusions. 'This will not join the long list of reports that have been filed vertically by the Treasury,' he promised. 'What the commission is proposing is not a revolution; it is not an attempt to create a city-state out of London. It's a sensible and moderate attempt, an evolutionary attempt, to face the challenges that London has.'
Underpinning these challenges are rapid population-growth projections. Johnson noted that since he took office in 2008, London's population had grown by 600,000 – and is set to hit 9 million by 2020 and 10 million by 2030. This exerts significant pressure on everything from housing supply and school places to rail services and waste disposal.
Yet the requirement for London to, as Johnson says, engage in 'endless hand-to-mouth negotiations with central government about penny packets of finance' frustrates efforts to plan for the future. There's also a blow to London's pride when it looks at comparable world cities and sees how much control they have over their finances. New York, for instance, receives just 31% of its funding in central grants. In Berlin, it is 25%, and in Tokyo, just 8%. By contrast, London depends on Whitehall for 74% of its public spending.
Even some of England's provincial cities are scoring rather better. Manchester, it can be argued, through its City Deal, enjoys more autonomy than London does at present.
But Johnson is not the first to carp at such constraints. Complaints about local government's very limited tax setting and raising powers have been a feature of the debate for decades. Earlier calls for reform, such as Sir Frank Layfield's 1976 report and Sir Michael Lyons' 2007 review, failed to cut much ice with ministers; so what's different this time?
There has already been a non-committal response from local government minister Brandon Lewis, who said: 'While there is clearly scope for more decentralisation, there are no immediate plans to devolve additional powers specifically to the mayor of London. The mayor has considerable financial power already.'
Despite this, Travers shares Johnson's optimism that the LFC stands more of a chance of being taken seriously in Whitehall. He points to the modest business-rate reforms already enacted by Communities Secretary Eric Pickles, which allow councils to retain 50% of business rate growth.
'The government itself believes that if you devolve tax-raising powers or tax bases to local government, it will increase economic output, because they commissioned research that said so,' Travers tells Public Finance. 'There are economic benefits from giving local government control of part of the tax bases because they then have a vested interest in building up that tax base.'
He adds that the success of devolution to Scotland, Wales and Northern Ireland has shown that catastrophes don't occur when Whitehall lets go of some powers.
'If you add all this together, I think the terms of debate are very different, certainly from the time of the Layfield report or even when Lyons reported.'
Freer observes that the report's focus on growth in general and London in particular could make it more palatable to Whitehall. 'All the challenges are more vivid when you're talking about one place than when you're talking about the whole country; it is harder to turn down. For me, the report does stack up intellectually as a very strong set of arguments.'
Sources close to the commission also highlight the opportunity presented by Johnson's status as a powerful player on the national political stage; he is frequently talked up as a potential rival to David Cameron for leadership of the Conservative Party. Having such a senior Tory champion, the report makes its prospects of success that bit more buoyant, it is suggested. 'He can get a lot further [with Cameron and Chancellor George Osborne] than other people.'
Johnson has pledged to remain a 'passionate' defender of its proposals, even if he finds himself back in central government. Indeed, his hope is that the LFC's recommendations will be in place before he leaves City Hall – although when that might be is currently unclear.
Despite the favourable policy climate and Johnson's personal pull, the report faces considerable obstacles. For example, it made no suggestions about how City Hall and the 32 London boroughs could jointly administer these new taxes or how they might split the proceeds. <%$Image:
ext-gen1272 25 351369 /EasysiteWeb/getresource.axd?AssetID=351369&type=full&servicetype=Inline 0 0 Travers and Boris SOLO 0 London calling: Tony Travers, chair of the London Finance Commission (left), listens to Boris Johnson at the launch of the report Photo: Solo false false false false%>
Freer suggests that the parties sit down and negotiate a settlement. 'It's going to be difficult, but the scale of the prize will be a great motivator,' he says. 'I don't think it's going to be any more difficult than when they put the combined authority together in Greater Manchester. Where there's a will, there's a way.'
Travers also highlights London MPs' poor track record in setting aside political differences and working together to win gains for their city. 'It's one of the abiding oddities of modern political life,' he says. 'MPs from other parts of the country are happy to work together and across party lines, whereas London MPs are much more tentative and fragmented.'
There's a risk the LFC report could also fall through this gap, but despite this challenge, Travers is determined to carry the LFC report forward. He tells PF that he intends to champion it at this autumn's party conferences and promote it to shadow chancellor Ed Balls and shadow local government secretary Hilary Benn.
Travers also stresses the modesty of the proposals. Following this year's business-rate reforms, about 7% of the taxes paid in London will be raised and spent by London government, he says. 'After these reforms, it would go to 11% or 12%, so this is not exactly Sweden or Germany. This is a very baby step in a very centralised democracy.'