By Richard Johnstone | 28 June 2013

Labour is re-examining the level of business rates and the way they are set, shadow business secretary Chuka Umunna has revealed.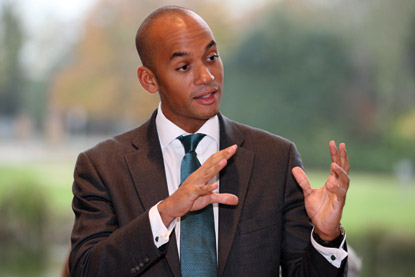 In an exclusive interview with Public Finance ahead of his address to the CIPFA conference, Umunna said Labour could not yet commit to retaining the coalition government's business rate reforms. He also spelt out a number of ways that Labour would promote economic growth, including 'reinventing' the Department for Businesss, Innovation and Skills and other Whitehall departments.
Under the rate changes introduced in April this year, local authorities will keep 50% of business rate growth in their areas.
Umunna has asked the British Retail Consortium to submit a report on the new business rate arrangements for Labour's policy review. This will examine 'both the level and the way in which it is set', he said.
Asked if he thought the coalition's reforms had encouraged local authorities to boost growth, Umunna said rates remained 'the number one issue' for many businesses in the UK.
Labour was therefore examining how the tax operated, he added. Although he would not now commit to specific reforms, he said firm policy proposals would emerge before the 2015 general election. 'We're looking at it overall at the moment, and we will give a more definitive indication of our priorities, and how we see business rates working, at the time of the next general election.'
Umunna's address to CIPFA delegates will be on 'designing the future state' and he shared with PF the Whitehall reforms being considered by Labour.
He said the party wanted to enhance the role of the public sector in fostering the conditions for prosperity and growth.
Criticising the government's economic policy, he said there was both a short-term need to 'get the economy moving again', and a medium-term requirement to 'reconfigure our economy so that it is fit for the future'.
To do this, the Department for Business, Innovation and Skills would be 'reinvented' to play a 'powerhouse' role in boosting the economy, including creating new government-backed plans for industries that would get state support.
He said Labour wanted to make the department a 'strong advocate' for what firms need from the public sector, and would work across Whitehall to support sectors of the economy that would be the focus for future growth. He compared proposals to 'pick' sectors to the pre-Olympics strategy of focusing on sporting events where the UK had a competitive advantage.
However, for such an approach to work, he said government needed 'commercial acumen and nous', which was currently missing due to a lack of real business experience across the civil service. 'I think the state needs to be acting in a more entrepreneurial fashion.
'Because BIS is called the business department, it gives the impression that business is only a concern of that department, when it should be a concern of every department. So I've talked about how we can get departments, when they make procurement decisions, thinking about what impact that is going to have on our strategic capabilities in the sectors they procure services from,' he told PF.
Despite proposing reforms to business policy, Umunna also called for party politics to be taken out of some critical decisions, including on infrastructure developments, in a bid to avoid 'policy uncertainty' that made it hard for firms to plan for the future.
For example, he said Labour would not reverse the coalition's decision to abolish regional development agencies and create Local Enterprise Partnerships.
'I've said to the business community, in the interest of giving you certainty, would we be looking to do to LEPs what the government did to RDAs, which was just to throw the baby out with the bathwater, tear them up and seek to put in place something altogether different? No. We will be seeking to improve on the LEPs and properly empower them to do what they are supposed to do for regional and local growth.'
Umunna also indicated that he broadly supported the plan to devolve Whitehall cash for skills, housing and transport to LEPs through a single Local Growth Fund. Following Lord Heseltine's Growth Review, ministers plan to localise some funding streams to boost economic development.
Heseltine's 'overall approach is not too different from my own', Umunna said. However, without 'overhauling and turbo-charging' the LEPs, he warned it would be 'very difficult' to implement the policy.
David Frost, chair of the LEP Network, told PF that Labour's commitment to retain the bodies 'had to be good news'.
Frost, a former director general of the British Chambers of Commerce, said he agreed with Umunna that 'if we are keen to rebalance the economy, then BIS has to play a central role in that process'.
He added: 'What has really disappointed businesses over many years is the frequency with which policy initiatives come and go in the field of economic development.
'We have agencies that are set up and in five years they're scrapped and we reinvent. All we end up doing is having a series of agencies with new acronyms trying to do much the same things but too much time is wasted in initially setting them up. So my first reaction is that has to be a good thing, to build on something rather than start all over again.'
Chuka Umunna is speaking at the CIPFA conference in London on July 10