By Richard Johnstone | 28 May 2013
The Department for Communities and Local Government is among seven Whitehall ministries that have signed up to extra funding cuts of 8%–10% in 2015/16, Chancellor George Osborne announced today.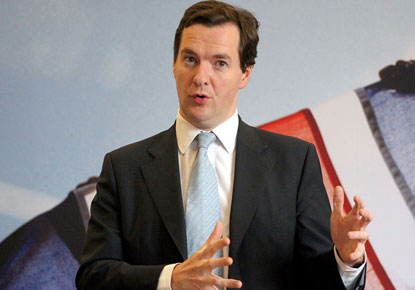 The other six are the Ministry of Justice, the Department of Energy & Climate Change, the Cabinet Office, the Foreign Office, the Northern Ireland Office and the Treasury itself, Osborne said ahead of his Comprehensive Spending Review on June 26.
Today's announcement represents around 20% of the £11.5bn in savings that Osborne has pledged to make in the review, a Treasury spokeswoman told Public Finance.
Spending on the NHS, schools and international development will be protected in the review, as they were in the October 2010 Spending Review, covering 2011/12 to 2014/15.
Speaking to the BBC, Osborne said today's agreements showed the Spending Review was 'going pretty well', but admitted agreeing the cuts was 'difficult'.
He added: 'I'm not hiding that from anyone, but it's necessary to ensure that we go on and fix our public finances, heal our economy and have enough money to spend on the nation's priorities, which are things like the NHS and the infrastructure that is going to create the jobs of the future.'
The Treasury's 'central assumption' is that all the required savings would eventually be made from departmental revenue budgets, with no additional cuts needed in welfare spending, Osborne said. This follows the decision in last year's Autumn Statement to increase benefits by only 1% from 2013/14 to 2015/16, and not uprate them based on inflation.
'We have already made substantial cuts in welfare, not just in the current welfare budget but in the future welfare budget,' he added.
'My central assumption is that this is money we are looking for from Whitehall departments. We've already made billions of savings in welfare in this year, and we have to make sure that Whitehall is not let off the hook. There are still substantial savings, and better value for money, we can get for taxpayers out of the machinery of government.'
Earlier this month, the Local Government Association warned that if 10% cuts were imposed on town halls after the Spending Review, councils could 'fail' their communities, with a host of local services facing cuts.