By Richard Johnstone | 17 May 2013
Around £200m could be saved each year if the efficiency of England's fire services was improved, an independent report commissioned by the Department for Communities and Local Government has concluded.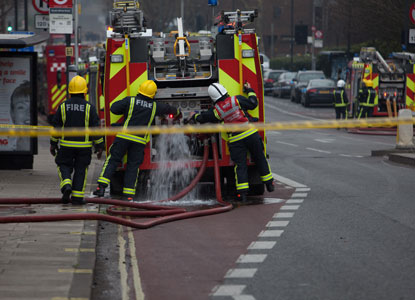 The examination of England's 46 fire authorities by Sir Ken Knight, the former chief fire adviser to government, found the number of callouts and incidents had fallen by 40% over the past decade.
However, both spending and firefighter numbers had remained broadly constant over this period, Knight said today, which created the potential for savings.
He highlighted huge variations in costs across the country, with some fire rescue services costing almost twice as others serving similar areas.
If the authorities currently spending more were able to reduce their costs to the national average, almost £200m could be saved, he said.
Knight was asked by fire minister Brandon Lewis last December to examine how fire and rescue authorities could save money without reducing the quality of frontline services to the public.
Knight concluded there was 'widespread duplication' across the 46 authorities, with each having their own management structures, senior leaders and operational approaches.
He said there was therefore potential for much closer co-operation and reconfiguration of services and the government needed to decide whether to alter services, including examining mergers between authorities.
There is 'a real opportunity' to save public money, he added. 'As a firefighter for over 40 years I know the fire and rescue service in and out. I know firefighters care deeply about public safety and do the best possible job.
'I've seen their capacity to adapt, even in the most trying of circumstances, but my report highlights that there is much more that can be done by the service leaders to make the service as effective and efficient as possible.'
A DCLG spokesman said government would respond to the report in due course. He added: 'We welcome this independent report by Sir Ken Knight which raises many important questions and issues for fire and rescue services.'
However, the Fire Brigades Union warned that the report would be used as 'a fig leaf for slashing our fire and rescue service to bits'.
General secretary Matt Wrack said 1,200 firefighter jobs had been lost over the last year, which had led to 'a poorer service for the public'.
He added: 'David Cameron has promised to protect frontline services. That has been exposed as a lie over the past three years as the fire service has faced the biggest cuts in its history.'